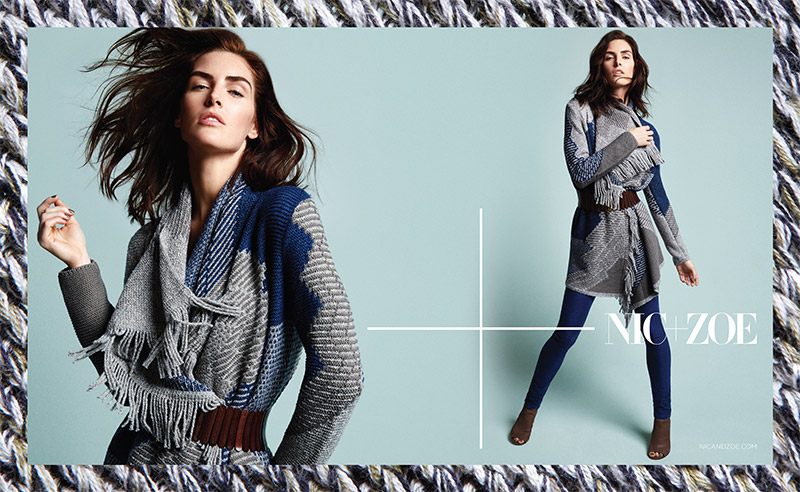 The fall 2015 campaign from American fashion brand NIC+ZOE enlists a familiar face with Hilary Rhoda. We can exclusively reveal the imagery from the advertisements which will run in the September issues of InStyle, Harper's Bazaar and more fashion glossies. The images were made with art direction by Air Paris with photography by David Roemer and styling by Sarah Gore Reeves.
The theme of the fall campaign is to "make busy look good" with Hilary showing movement in the label's signature knitwear pieces in a juxtaposition of studio and on-location shots. NIC+ZOE says about the decision to select Hilary as its latest face: "We chose Hilary for her sophisticated confidence and strong sense of femininity, which evokes the spirit of the NIC+ZOE woman. Also her involvement in charities such as New Yorkers for Children and Lollipop Theater seamlessly align with our core values as a brand."
Check out FGR's Q&A with the NIC+ZOE design team below on the fall season, 10 year anniversary and more.
What was the inspiration for this season's collection? 
Fall captures femininity with an urban twist. We were inspired by soft textures and interesting surface treatments and tried to concept pieces that could work well together for layering as the weather changes. Our first group, Adagio, uses natural patterns in modern mixes, shattered graphics, volcanic greys and winter whites with a hint of sunlit pales that feature weathered looks, dramatic placements and relaxed layers. Further into the season with our Play it Cool group we have denim and chambray mixes pair well with sweater mixes and oversized sweaters for the perfect fall layering. As the season starts to chill, our final fall group Coral Room brings new embellishments like studs and faux fur with lace and fringe features. We layer throughout the season with some statement coats and chunky patterned sweaters.
What are some must-have pieces from the fall collection?
Tabard style sweater vests belted that create fresh layered looks for fall. Head to toe sweater dressing in a neutral colors is a key fall look. We have strong neutral pieces that work well together and with the collection as a whole. The Everyday Turtleneck and Turtleneck layer pair perfectly with the Great Lengths Cardigan. Fun fur items were a must on many runway collections and make great completer pieces like the Spade Vest, The Cozy Cove Vest and the Festive Fur Jacket.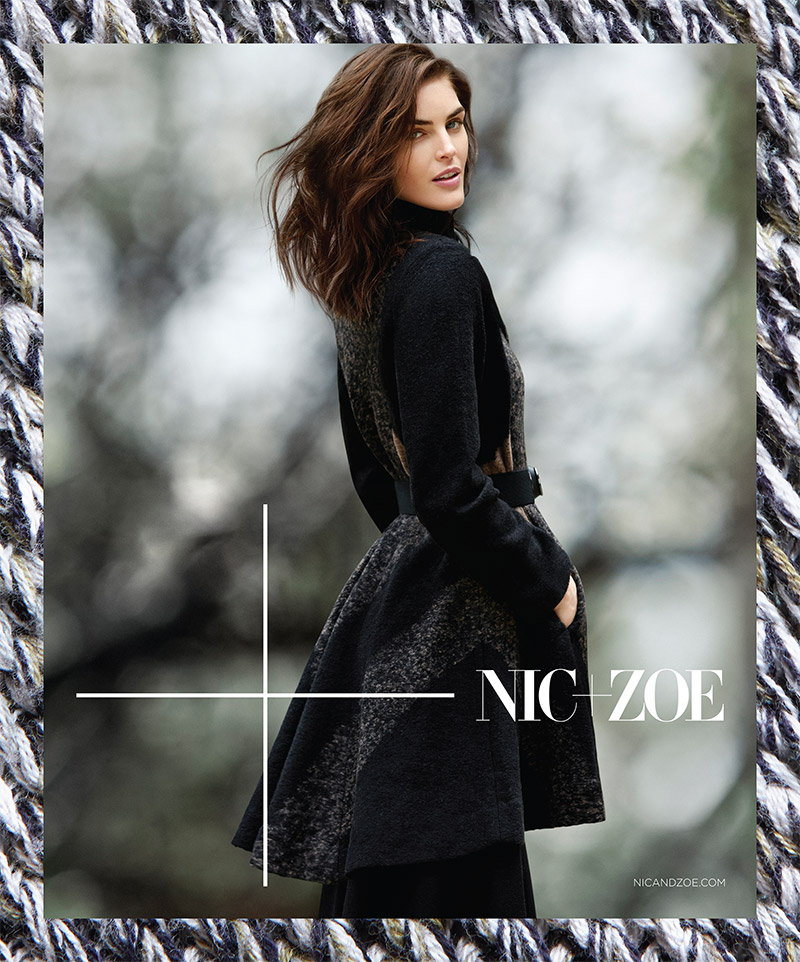 How would you describe the NIC+ZOE woman?
The NIC+ZOE woman is layered, dynamic, passionate and intuitive. She balances a rich life of individual achievement, family and creativity and takes pride and energy from the artful navigation of her life's turns. Confident, spontaneous and curious, she loves to travel, learn and experience. A woman comfortable in her own skin, she is active, engaged and engaging, she is today's modern woman.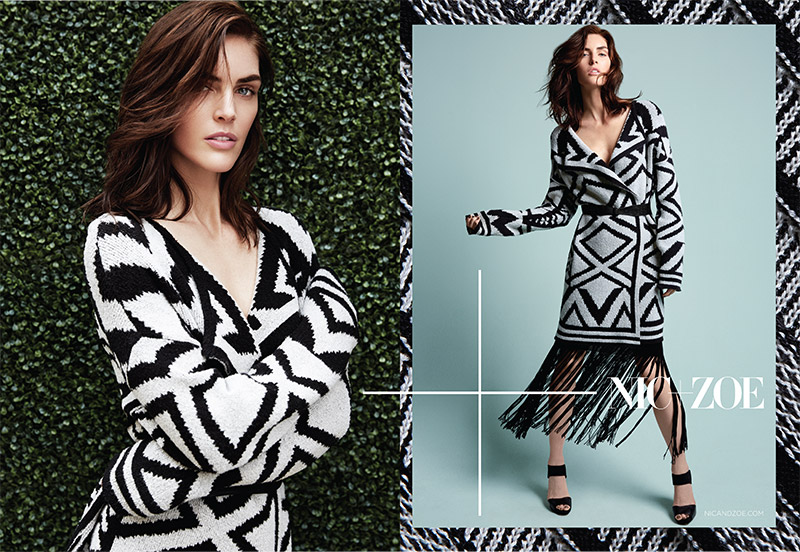 With the brand celebrating ten years, what can we look forward to next? 
In honor of our ten year celebration, we'll be unveiling a Special Edition Collection next spring. Dorian Lightbown, Co-Founder and Chief Creative Officer, was inspired to create this collection after searching for a dress for her daughter Zoë's wedding. Disappointed by the options out there for mother of the bride, as any great designer would do, she decided to design one herself which evolved into complete collection.
Comprised of elevated pieces in premium fabrics combined with Dorian's unique approach to texture + pattern, this collection carries women into her evening affairs allowing her to make dressy feel good. Also, this fall we are opening our first flagship store and we are excited to show the complete world of NIC+ZOE with our point of view and inspiration for each collection. We choose a location close to our corporate offices, so it can be truly a working lab to test and learn more about our customer.