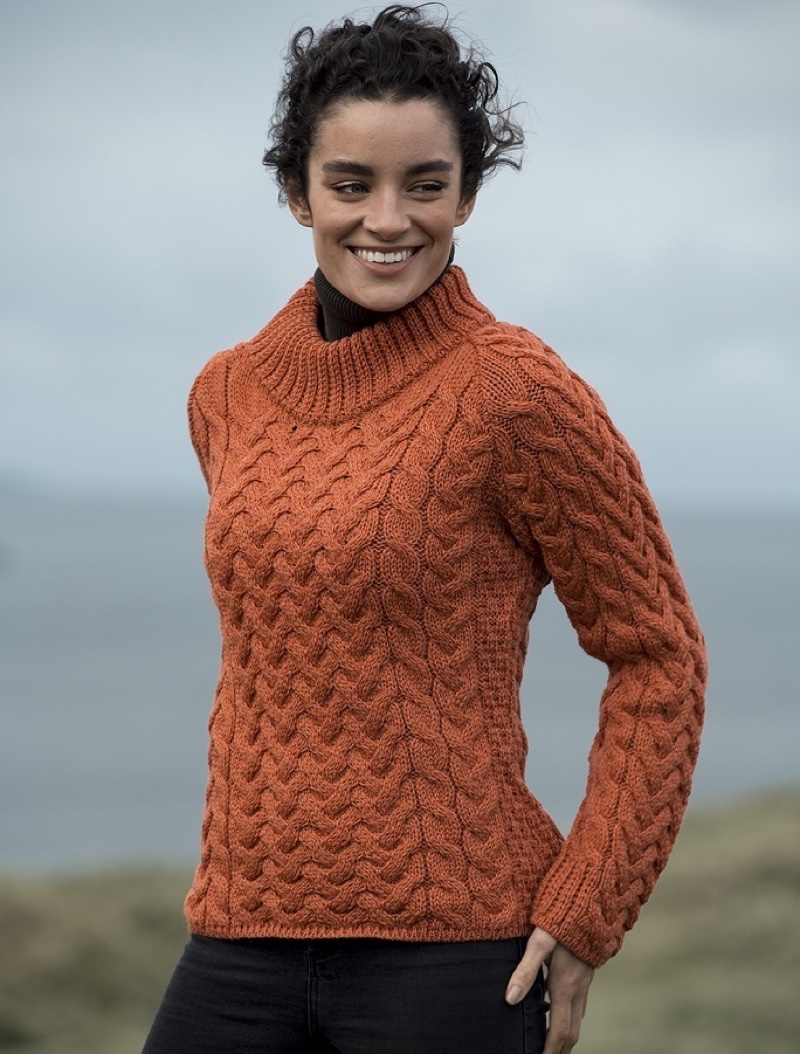 There is nothing quite as stunning as the burning reds and oranges of the changing autumnal trees. At this time of year, when the leaves begin to change and fall, we instinctively look to cozy clothes and warming colors for cheer and comfort as the colder seasons set in.
Our designers love the bright colors and cool shades that Autumn brings and have used them to create some of our most stylish and coziest looks yet. Inspired by the natural and varied landscape of Ireland and the waters that surround the Aran Islands we call home, our Autumn/Winter collection has something for everyone.
Add A Pop Of Color To Your Wardrobe
As the Summer months come to an end, raspberries and blackberries line the hedgerows ripe for the picking. The bursting colors of these purple and red-pink berries are the perfect way to brighten up your fall wardrobe.
Add some energy to your outfit this season in our purply, 'jam' colored, Cowl Neck Aran Sweater, or 'raspberry' colored Zip Aran cardigan. The cowl neck detail adds a feminine touch to the flattering cable stitch Aran sweater. Whilst the beautiful bright cardigan has warm pockets and a thick double collar. Perfect for snuggling into on long walks in the crisp autumn air.
For some extra coziness try the 'very berry' colored Honeycomb Button-Up Cardigan. This classic looking, long-sleeved, cardigan looks good with everything from skirts to jeans. The warm berry hues will pair effortlessly with the blue, blacks, and whites of your wardrobe staples.
A nod to the changing colors of the season, our women's Cable Crew Neck Sweater is available in a stunning 'autumnal leaf' orange. The statement collar of this sweater will protect you against the changing weather and compliment any look you match it with.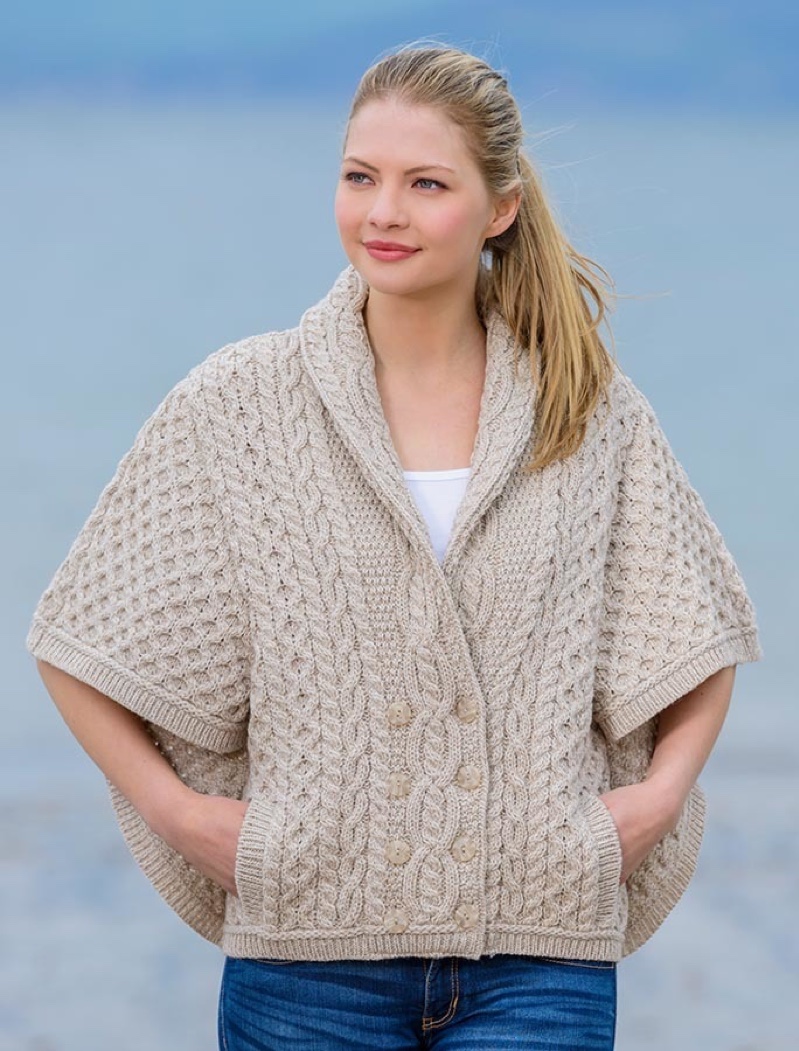 Catwalk Worthy Cardigans
The appeal of the classic cardigan is its undeniable versatility. Pair your Aran cardigan with this season's high rise wide-leg jeans or glam it up with a silk dress and an embellished heel. Our cable knit cardigans look stunning with any kind of pattern, including tartan, checks, and gingham – all Autumn/Winter 2020 favorites.
Cardigans have stood the test of time and trends thanks to the lure of the simple convenience they offer. A chic cardigan like the Carlow Trellis Jacket will complete your evening look. For a look that works anywhere, shrug on a Shawl Neck Batwing Aran Cardigan. Perfect for those days when you are running out the door in a hurry but still want to look fab!
If cardigans aren't quite your look, but you still want in on the A/W trends, then stand out from the crowd in one of our wool cashmere side button wraps. These hugely popular cross front wraps can be worn with casual and formal wear and are bound to be a conversation starter.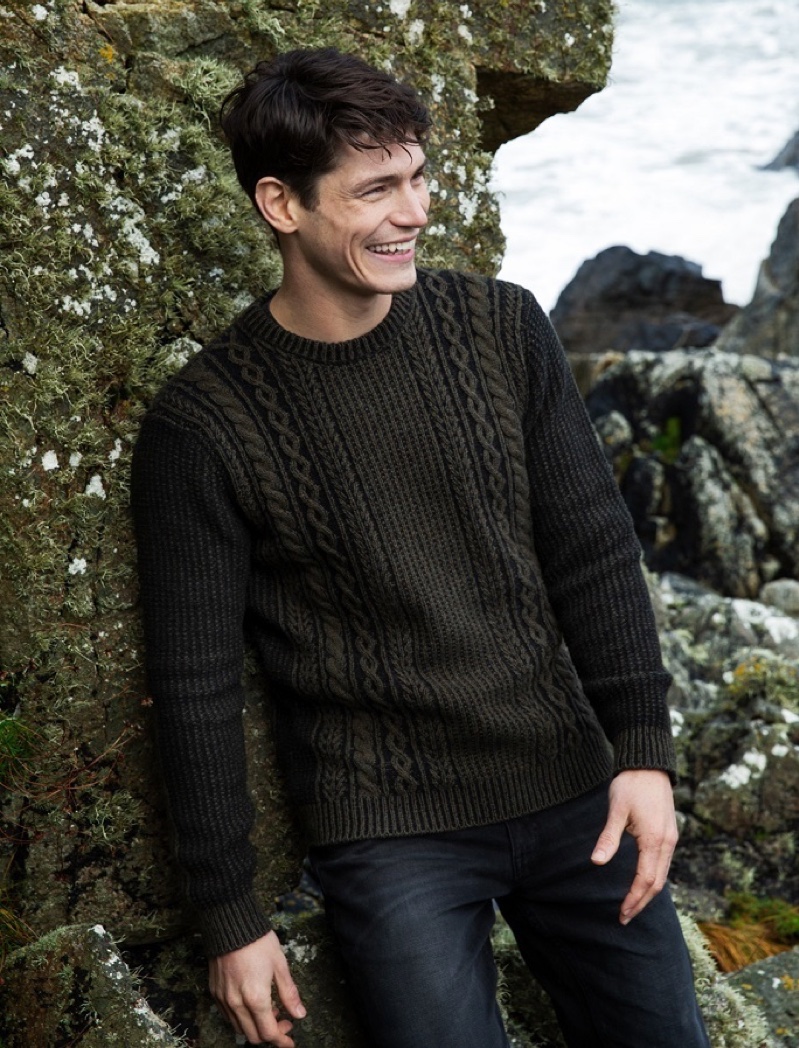 Men's Knitwear Trends Autumn/Winter 2020
Oversized scarves and men's cardigans as coats are two trends to look out for this fall. At Aran Sweater Market, we have you covered for both of these stylish trends.
One of the most popular accessories in men's fashion over the next few months will be the humble scarf. Now a must-have item for any fashionable fella.  Expect to see them worn big and bunched. To achieve the trendy oversized-scarf look, look no further than the Lambs Wool Manket. This free size cape-come-snood is the ideal solution to get the oversized look just right.
Alternatively, available in six colors including charcoal and turquoise coal the Wool Cashmere Hood is a great substitute to a scarf that will still give you the on-trend full-scarf look. This unique style hood can be matched with any sweater and outfit. Perfect for looking good and protecting yourself from the autumn chill.
For a classic, yet still on-trend look, try the chunkier Aran Honeycomb Scarf or a premium Clanaran scarf. The latter is available in 500 different patterns. Each one following a family's unique Clan Aran pattern. They make a great gift for a loved one of Irish heritage. To achieve this season's oversized look, knot or wrap your scarf and wear it high.
We kind of feel like we invented the cardigan-as-a-coat look, so we're delighted to see it as one of this season's men's wear staples. We have a range of cardigan styles for you to choose from including the Grandfather Cardigan which pairs well with a checked shirt and jeans for a casual fall look or smarter chinos for a night out. The Hooded Merino Aran Jacket and Hand Knit Zipper Cardigan are just two of our looks that will give you all the warmth you need thanks to the reactive fiber of the Merino wool that we use to make them. This wool reacts to your body's temperature to keep you warm in the fall and cool in the summer. Ideal for the coat as a cardigan look.
Stay Stylish For Fall Staycations
Fall is the perfect time for a romantic getaway. Stroll hand in hand on windswept beaches snug in your fleece-lined Aran cardigans. Or get wrapped up in cozy Aran sweaters for leisurely cycling through the crispy leaves of woodland trails.
What could be more romantic than snuggling up under a soft Aran throw in front of an open fire in a lakeside log cabin? Wherever you go for your staycation this fall, add some luxury with a little gift for yourself from the Aran Sweater Market.
For those of us staying home this fall, there's no reason we can't get snug and stylish too. Whether you're staying in with your family or heading out for a date night. There's a look for you in our collection.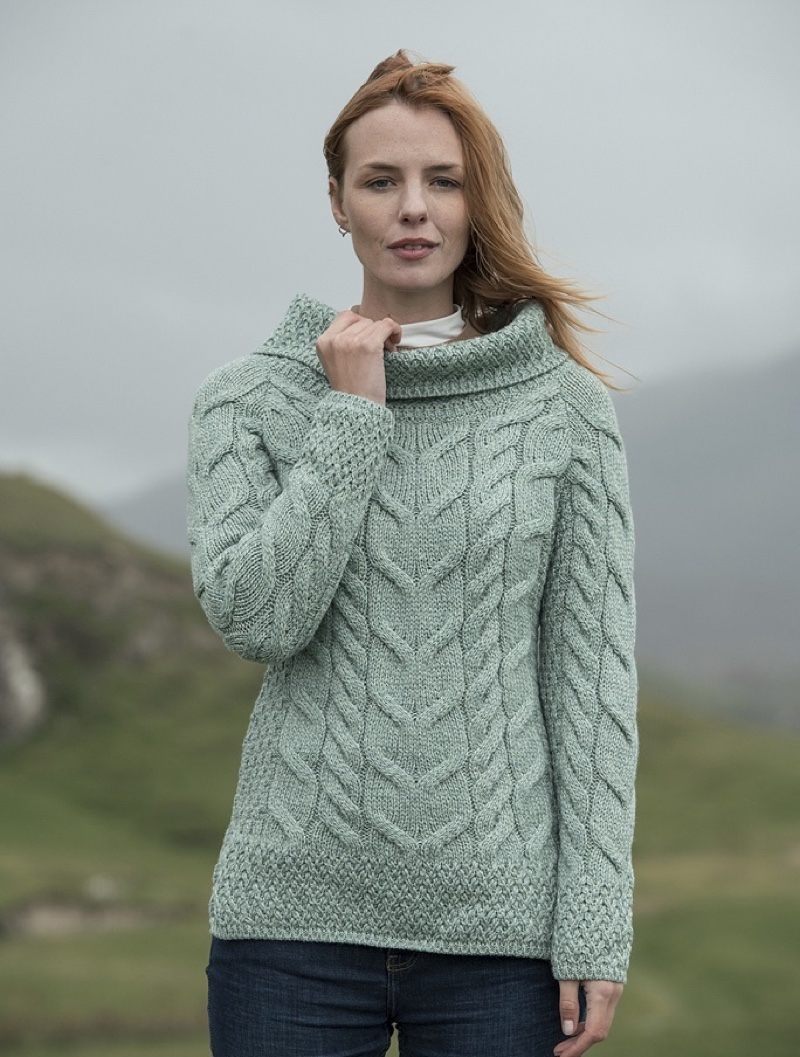 The Cool Shades of Autumn / Winter 2020
We know that the warm colors of this season don't appeal to everyone and that's why we have included a range of cool shades this Autumn.  This is the time of year when the Atlantic becomes grey and moody, swells become higher, and storms set in. These enchanting waters are the inspiration behind the 'ocean grey' Trellis and Cabel cardigan. A fantastic piece for layering with cozy leggings. The Super Soft Aran Infinity Scarf was also inspired by the local waters. Available in an inky blue 'Irish sea' and paler 'seafoam green'. Both will remind you of the untamed coast of the Aran Islands.
Inspiration from the land has been taken from the wilds of a part of the Galway landscape that is rugged and unspoiled. The 'Connemara green' women's Cowl Neck Tunic Sweater is a  color inspired by the rich greens of Connemara marble and the many mosses that grow here unbounded. In our men's collection, the famous earthy peat of the region has inspired the cozy and stylish 'grey peat' Crew Neck Sweater. Designed to keep you safe from the gusts of fall, the windproof Aran Style body warmer is a lush 'fern' green, which will complement any gent's outdoor style.
At the Aran Sweater Market, we truly believe that we have something for everyone this Autumn/Winter. The Aran Sweater Market works with Ireland's best designers and suppliers to bring authentic irish sweaters to our customers in Ireland and around the world. We are proud of our Inis Mor roots and that's why we aim to pay homage to the Aran islands through our top-quality knitwear collections. Browse our site to find your ideal Aran look and call or chat with our Irish customer service representatives online if you have any questions.