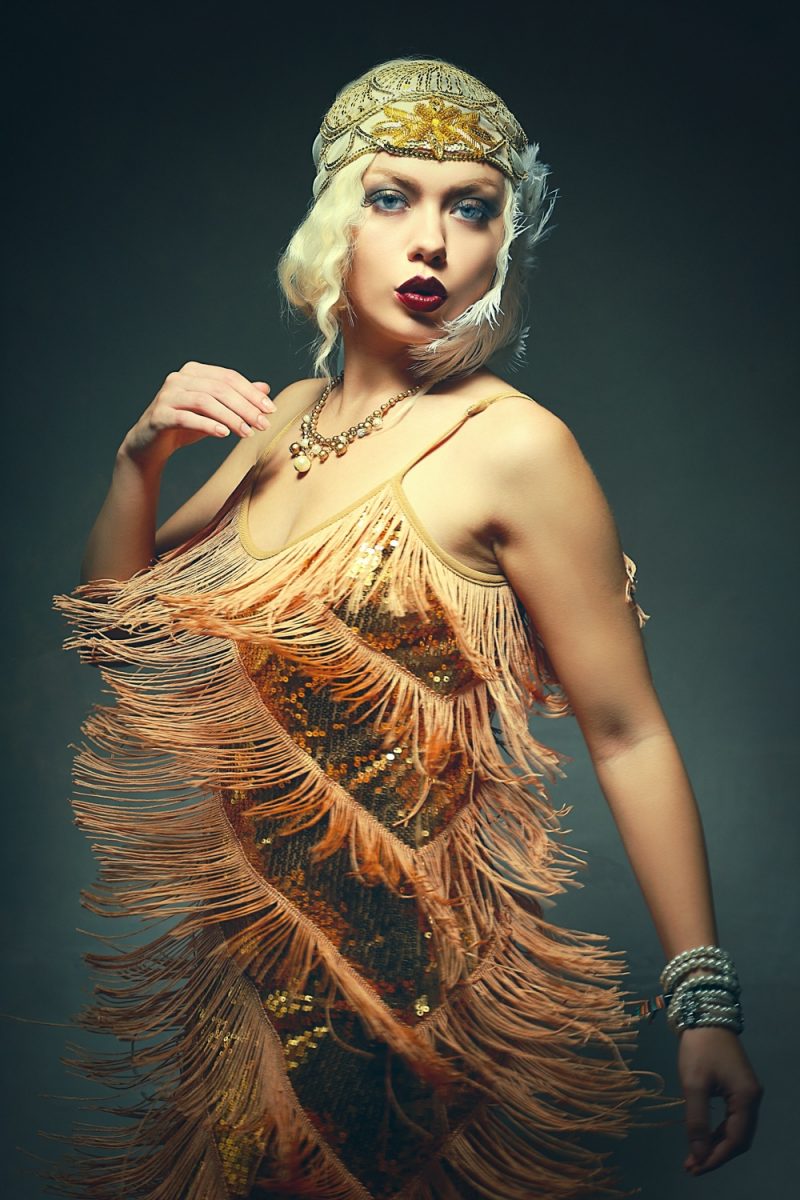 Have you heard of the fringe fashion? Big word?  So what is fringe fashion? This fashion consists of hanging threads or cords. There can be some stripes also. These are found in garments made out of leather, suede, or buckskin.  It is used in a variety of styles. These include rugged suede jackets to glamorous party dresses like these fancy fringe dresses from Charismatico.
History of Fringe
Fringe has been around for about a century now. It has been in and out of style. Fringe first came into fashion as an embellishment in the 1920s. It is part of the flapper look. This look is a popular dress style for women. 
They say Fringe even originated way back in 3000 B.C. in Mesopotamia (now Iraq). It has been worn by all classes of people in ancient civilizations.  They believe there is proof of this from old sculptures or statues.  
Fringe was used in skirts and shawls. These adorn woven garments are made of cotton or linen. The wealthier or more affluent people use silk. The styles come in hanging straight, knotted. They can even be tied as unique as possible. 
Many believe that fringe became elaborate in the later years of the Mesopotamian era.  The fashion also had dyes, different shades, and layers. They embellished the whole garment. 
Unique of this era was that fringe was even used as a way to sign important contracts. Instead of signing a name, men even press the fringes to become a clay contract. 
Other than the Mesopotamian times, Native Americans also had their share of fringe. The embellishments were sewn separately from the rest of the garments. It had textiles that were in strips or cords. The materials used were leather. 
The fringe style was for decoration and practical use.  An example of this is that there was a fringe style that helped repel rainwater.  For native Americans, they do not trim seams. Doing so is considered wasteful. Leather garments take a long time to prepare. For a decorative look, seams were clipped. The excess was made into a fringe. They were used to embellish clothing. Beads or dyes adorned these garments.  
The 1920s were considered as the golden age for fringe fashion.  During this era, dresses were loose. They were cut from luxurious garments and then ornamented with fringed trim. 
The famous designers for fringe were Madeline Vionette and Charles Worth. They pioneered fringe fashion during the 1920s. Madeline Vionette made bold floral prints that had long fringes. Tinsel dresses were made famous by Charles Worth. Celebrities who wore fringe were. Joan Crawford, Olive Borden, and Claudette Colbert.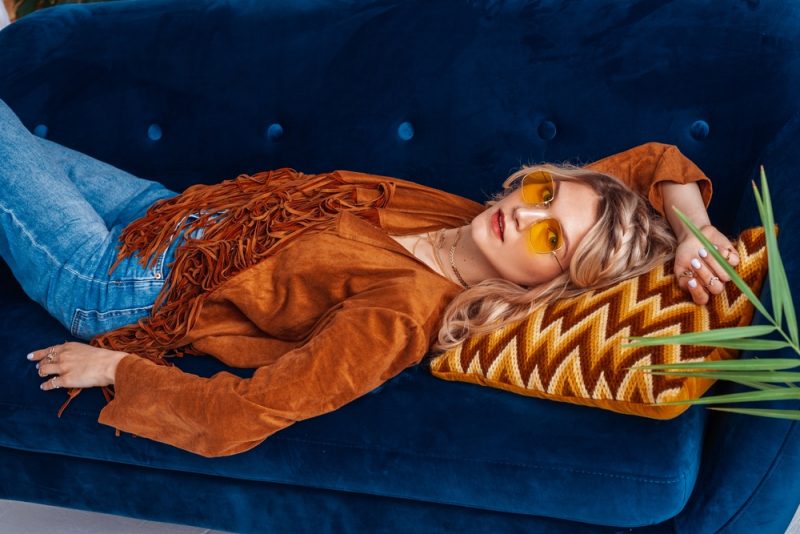 Fringe fell out of fashion. It made a strong comeback in the 1950s. It had a more rebellious look. It featured leather motorbike jackets with embellished gloves.  There were also the famous Elvis Presley's signature fringe jackets.  Rita Hayworth also wore fringe. 
The next decades of the 1960s and 1970s came full circle. Designers were inspired by Native Americans and Africans fringe styles.  Yves Saint Laurent made two fringe collections in 1967. Many famous celebs wore fringe jackets and dresses. 
Cher used fringe as her iconic look in the 1970s. She used it for both casual and even evening gowns. She used many fringe gowns in many of her performances and music videos. 
Fringe in Today's Times
Fringe seems to be back. Recently, this was seen on the runway. Names like Derek Lam, Edun, Hugo Boss, Diane Von Furstenberg, Anna Sui, and Prabal Gurung showcased fringe fashion. Fringe seems to come back. It has been making a way into the recent collections.  It is not only for denim fringe and cowboy boots. But it seems to be a style in the Milan Fashion week. We saw a lot of accessorizing and embellishments.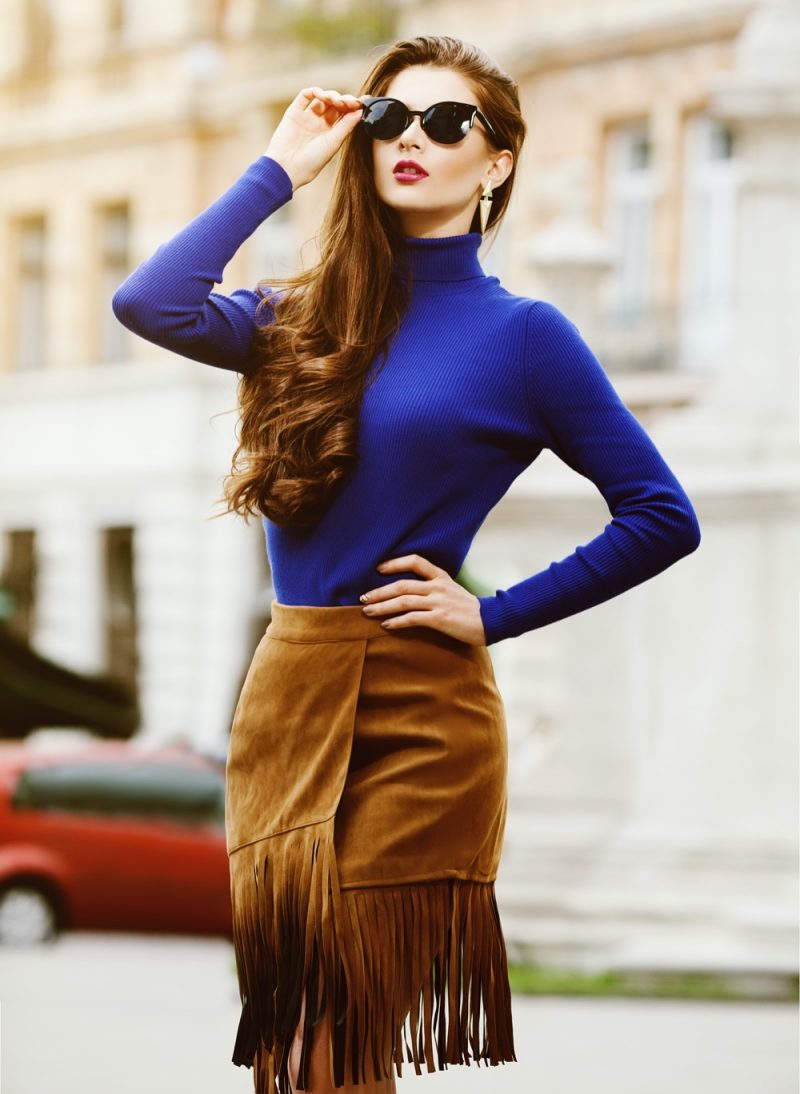 Fringe Styling
If you wish to do fringe style. You can wear it in different ways. You can wear fringe fashion garments. You can also add accessories to make your look even more fabulous.  It is in the details of your garments. You can put some style on the shoulders of a distressed denim jacket. You can see it on wedge sandals.  Other shoes can also be embellished. Even bags can be adorned with lovely fringe styling. 
But you have to balance the way you do your fringe styling. While you can overdo it if you want to, it is best to create the right balance. Have the essentials then adorn with bold embellishments in the right spots.  This means there should be only one or two areas with bold and trendy fringe. Leave the other parts basic. For example, use fringe for your accessories like bags and shoes. Then wear a basic outfit.  
Now, if you want a fringe for your outfit, leave the accessories or your bags and shoes basic. For the outfit, you can wear a fringe jacket. There are also fringe dresses.  
The point is not to go all out wearing fringe from head to toe. Choose only areas to accessorize. Fringe should be an eye-catcher. But the style should not drown you. You should be wearing fringe and not the other way around. 
Fringe looks nice to wear for a Friday night out. Fringe can be casual but trendy wear. It also looks excellent on weekend wear for relaxing times. Fringe may be a bit daring. But if you wear this right, it is a great style that will surely make you fashionable!