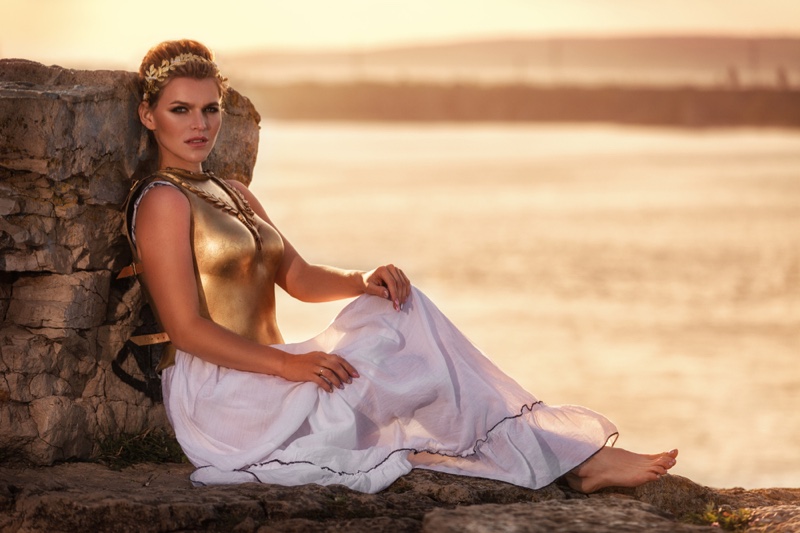 While civilization has become less and less prude over the course of the past century, specifically, leveraging sexuality has been a marketing and domination strategy for thousands of years. It should be surprising to no-one that sex sells better than Sloto Cash online casino on a Friday night during spring break. It's not even a recent phenomenon.
The Greek Pantheon (and the greeks themselves, for that matter) famously slept with just about anything that moved.
However, after the Fantasy genre boomed following J.R.R Tolkien's work, depicting women in such settings has become far more common. Game of Thrones took this to the extreme by just having naked women in every other scene.
Meanwhile, media made a power fantasy for young men started demonstrating more and more sexy heroines- slim, supermodel characters dressed in lewd armor. This armor often is completely impractical, both for fighting and as clothes.
However, there actually is a middle-ground for feminized, sexy armor that can help a woman kick ass without getting herself killed.
Terminology and History of Boob-Armor in Media
First, let's define some terms.
The first to get out of the way is bikini armor. While most women don't want their bits chopped off, getting stabbed in the abdomen is just as bad, if not worse. By a lot. Basically, any armor that leaves one's vital organs exposed is not armor. It's just the world's most uncomfortable swimwear. This kind of armor is not usually depicted all that much in movies, but it's grossly abundant in Comic Books, Video Games, and Anime (90% of which are power fantasies, so that's really all that surprising).
However, it is a lot older than most people realize. In fact, Bikini Armor can be traced back to the earliest days of pulp magazines and fiction in the earlier 1900s. Meanwhile, breastplates with female breasts on them go as far back as the 16th century. Various societies would depict warrior goddesses dressed in ceremonial armor and decorated to enhance the female figure. You can google a couple of paintings and statues dating to the 1600s that depict the roman goddess Bellona in feminine battle armor.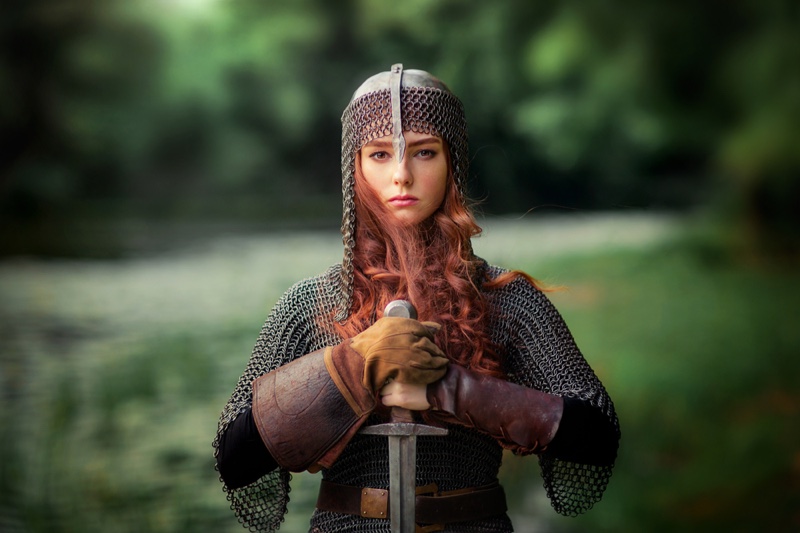 Real History
So the question is, was there a real, historical precedent for any such kind of armor? Is there an equivalent of real feminine armor, Bikini or otherwise? And the answer is no… sort of.
Women in history rarely, if ever, fought in battle. When it did happen, there was no specific armor made for such women. We can take Joan of Arc as an example, who simply wore a male's plate-mail into battle. You can also look at medieval artwork of women in armor, and the armor is never depicted as being particularly feminine (and medieval artwork is a surprisingly reliable way to learn about these sorts of details from the Middle Ages).
However, if it had been more common for women to go to battle in that era, would medieval blacksmiths have made feminized armor like we see in pop-culture? The answer again is no… sort of.
A blacksmith's job would be to create highly functional armor. Bikini armor that leaves 90% of the body exposed would be completely out of the question. Also, adding massive breast cups to traditional plate-mail would not only hinder one's ability to effectively use swords and bows but also throw off one's center of gravity.
However, there are some strong arguments in favor of feminized armor if it was more common for women to go to war.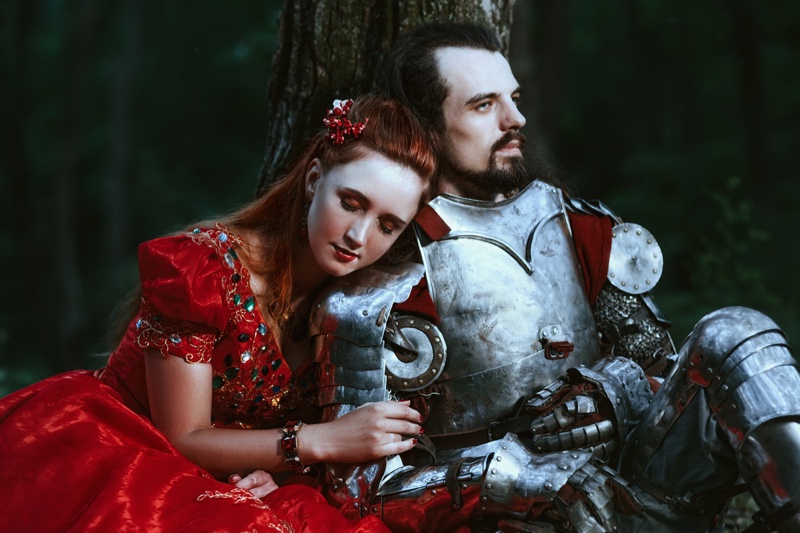 1) Muscle Cuirass
Say nothing else for the Greeks and Romans; they had style. Male soldiers who could afford it, like Alexander the Great, wore what was called "Muscle Cuirass". These are solid breastplates that were designed to be shaped like muscled abs, and many even depicted bellybuttons and nipples. The shaping of such plates doesn't drastically change the overall contour or weight distribution. It's not entirely out of the question that blacksmiths of the era could create similar armor for the female physique.
2) Narrow Culets
Now, I don't know how to pronounce "Culet", but it's basically the traditional medieval torso armor that springs to mind when we think of "Knights". It's bulbous towards the chest and narrow towards the hips. This design serves a twofold purpose.
First, functionality. The larger upper region around the chest gives ample room for the wearer to breathe comfortably. It also gives a bit of a safe zone if the armor becomes dented. If a mace or a polearm rams into your chest and dents the steel, a couple inches of breathing room can mean the difference between weakened armor and a caved-in sternum.
This functionality extends to the narrow hips. Plate-Mail is heavy. Moving around in it can be exhausting. You don't want all the weight on your shoulders either. The slim waistline distributes a large chunk of that weight onto your hips, making the armor far more comfortable to wear.
The second purpose of these designs is aesthetic. It was fashionable in that era for men to have slim waists and large chests, so the armor was crafted to enhance that. While it might look a bit goofy now, that was peak sexy in the Middle Ages.
So again, creating armor for women that would be considered beautiful while also filling out a larger, important function is totally something that would have been done.
3) Codpieces
Need I say more?
If you're unfamiliar with the term, look them up on Google images. You won't regret it. Feel free to giggle like an immature school kid because they're hilarious. Codpieces are basically massive, protruding pieces of metal designed to show off a male's, ahem, fruit salad. They look like metal bananas welded to the front of a Knights Armor.
They're impractical. They're ridiculous, and you'd never want to actually put sensitive parts of your body in such an exposed piece of armor.
Yet, they were worn by kings, despite the fact that every argument against boob-armor equally applies to codpieces. So it's clear that sometimes, even medieval kings and knights gave up practicality for aesthetics and sex appeal.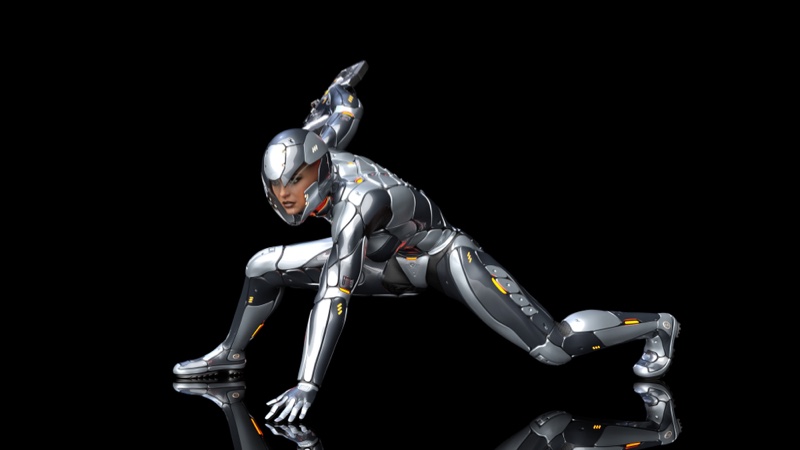 Women's Armor
So now that we've established that knights and blacksmiths are perfectly willing to accept some losses in function to favor "sexiness", what would an accurate and practical set of medieval women's armor look like?
To start, we could just go the boring route and say that it would look exactly like the men's armor. Since the male armor has that extra breathing room, it would fit all but the most well-endowed women just fine. There are good real-life examples of this, but a few good fictional examples too. From Game of Thrones, Brienne of Tarth is a strong example, and so is Eowyn from Lord of the Rings- both of whom rock the male armor sets.
If we wanted to feminize it more, it's possible to narrow the waist and push up the chest cavity. The narrow waistline is, of course, a real example of aesthetics meeting practicality. Pushing up the chest cavity could create a more "busty" set of armor without drastically weakening the utility of the armor in any significant way. There are a lot of video games that get this right by accident, but often those same games will have plenty of Bikini Armor to go around, so I'd hardly give the designers much credit for that.
Interestingly enough, Sci-Fi seems to have some of the best depictions of practical, female armor. Star Wars "The Mandalorian" actually has a few examples of extremely well-designed female armor worn by both Cara Dune and Mandalorian Bo Katan. Their armor, while not being full plate, uses sci-fi fabric in between the plates for protection. The chest cavity is also modest but form-fitting. It's boob-armor, without any of the problems and critics often raised against boob armor.
Don'ts
However, there are several common areas that Hollywood gets consistently wrong that I'd like to point out. I think I've accurately laid out that armor, even medieval armor, could have been designed in a practical but feminine and sexy way. However, Hollywood just… doesn't care to put in the effort to create practical designs.
First, Cleavage. A massive V-Cut in a piece of armor defeats the whole purpose. Armor is designed to prevent you from getting stabbed. Having a massive, exposed area where you can get stabbed is just bad design. Good armor goes all the way up to the neck.
Second, and far more common in movies, are high-heels. Every girl I have talked to says that heels are just the worst. They're uncomfortable, they're terrible to run in, and they sound like the last things you'd want to be wearing when running into battle.
Now, it's obvious why Hollywood incorporates heels into so many designs for women's armor. It's so that they can have the actresses at the same height as their male counterparts. Still, it's a bit ridiculous to see Scarlet Johansson running into battle with heels and cleavage alongside her heavily armored teammates like Iron Man, or just super-humanly tough characters like Captain America and Thor.
Heck, even Wonder Woman, who's actually super strong and bulletproof (depending on who's writing her that day), can't seem to escape this. In "Wonder Woman 1984", she wears this absurd and impractical golden set of armor, which, aside from several bad design choices, also has heels.
So yes, a lot of female armor in fiction is wrong. A lot of it is because male writers just want a sexy character. If that's the intent, then well, that's that. However, I think it's not that far-fetched to create a good-looking, feminized set of armor for a strong female character that also doesn't look like it would kill her if she tried to go for a light jog.