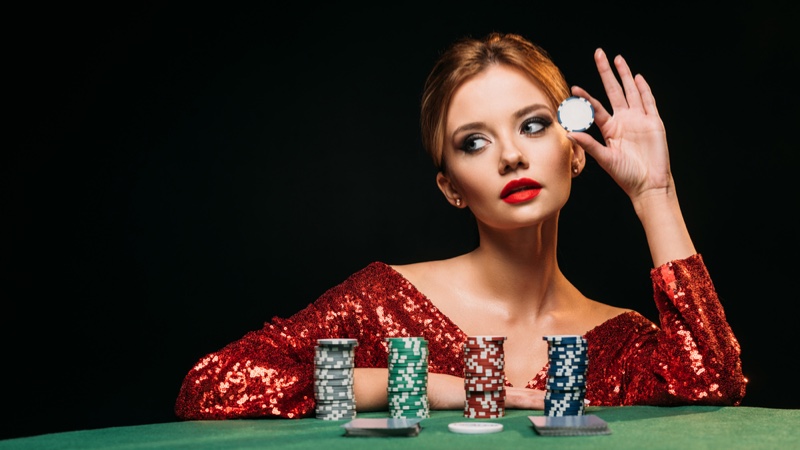 As a responsible player, it is your duty to honour the dress code of a particular casino and respect other players who follow the dressing styles. Dressing sense has been always an important characteristic of regular brick and mortar casinos. Gambling and fashion have complemented each other perfectly for decades. Continue reading to see how they have influenced each other in detail over the years.
A brief history of casino fashion
Earlier, casinos were perceived to be places where unscrupulous people flocked together to gamble their wealth. If you check out the word 'Casino', it is derived from the word 'Casa' which is another word for social gathering.  Naturally, these social places were associated with looking good. Initially, the casinos were used by businessmen or travelers who came to discuss deals and opportunities.
The casino culture was born when the casinos in North America started to incorporate bars. This changed the notion of casinos from not just being a gambling haven, but also a place for social gathering. As the casinos started to incorporate glitz and glamour into their environment, they started to enforce strict dress codes for the stylish and the reckless to uphold their lofty standards.
Many people perceive casino fashion from the depiction of James Bond movie – that suave style with sharp looks and a formal dress. People from all over the world have tried to copy him in a desperate attempt to become a smooth mover. Some people associate the general casino look with what Frank Sinatra perceived. The legendary musician and producer loved to play music at renowned casinos and dressed well. He became quite synonymous with Las Vegas lifestyle.
How casinos are influencing Fashion houses now
The fashion industry is valued at $3 trillion and is responsible for the employment of 57.8 million people.  It is one of the most lucrative industries in the world and contributes to 2% of the global Gross Domestic Product (GDP).
The actual worth of the fashion industry cannot be comprehended totally. Countless artists and talented individuals put down hundreds of hours of work into their concepts to make them into reality. They base their design inspirations from ancient leaders, nostalgia, romance, untold stories, and even casinos.  Yes, you heard that right! Some of the world's most renowned fashion houses have designed a couple of the most creative and daring collection that the world has ever seen. Their design inspiration came from the rush of playing casino games, the casino atmosphere, the joy of going to a casino and more.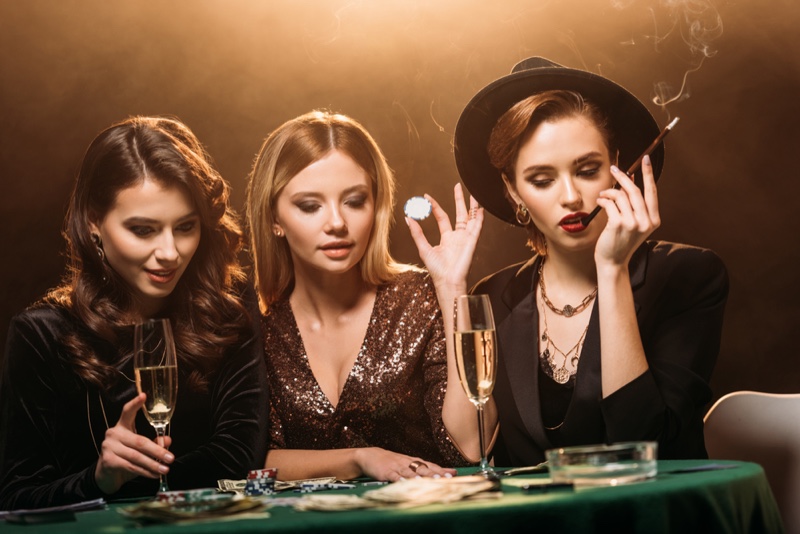 Some recent examples
Have you heard about the fashion brand, Moschino led by Jeremy Scott? The brand is known for its forward futuristic thinking pieces with designs ranging from teddy bear garishly draped in Christmas fairy lights as well as Mc Dowell's logo sign, In 2017, the brand launched its range of clothes for its June 2017 runway show which was designed specifically with casinos in mind. During the show which was a part of MADE Fashion Festival, models such as Stella Maxwell, Hailey Baldwin, and Miranda Kerr made a ramp walk in nen suits. Their suits were specifically designed from the famous neon lights of Las Vegas and from several slot games which featured suits smothered in sequins, pinup girl applique, and orange flames.
Chanel is another fashion brand which is renowned for its subdued approach towards concept designs. In the 2015 Paris Show, the Karl Lagerfeld-helmed fashion house delivered a tremendous red carpet show with a casino twist. Even stars such as Kristen Stewart and  Julianne Moore were present in the show wearing monochrome dresses. The stars later increased the temperature of the show by spinning Roulette wheels and playing Blackjack, additionally hyping the casino atmosphere.
How the fashion industry has changed the casino dress code
Earlier, casinos were used as the perfect backdrop for showcasing glamour and wealth by the rich. Check some old casino movies and you will understand what we are trying to point out here. Men with slick black hair and in suave suits and shirts acted as the epitome of the classic casino fashion at that point of time. Similarly, the women dressed in glamorous furry clothes draped in extravagant jewelry.
Things have changed a lot since then. Later, the casinos witnessed another wave of fashion known as 'power dressing'. Here, big wigs, oversized blazers, and skin-tight attires stated to make an appearance. The casinos started to relax their emphasis on following the top fashion statements and started to focus on lenient designs. With time, people started to focus on the gambling process more and started insisted on wearing comfortable clothes rather than fashionable ones.Still, you will find some people wearing revealing dresses at high-end casinos. Some people prefer the retro look and add some retro stripes to bring in the classic mood. Others prefer string statement collar, trendy tie or a designer watch along with a grey suit. More or less, the trends have changed over the years and are still evolving now.
In short, if you are visiting a casino, just do it in style! Just enjoy the thrill and dress well to kill!