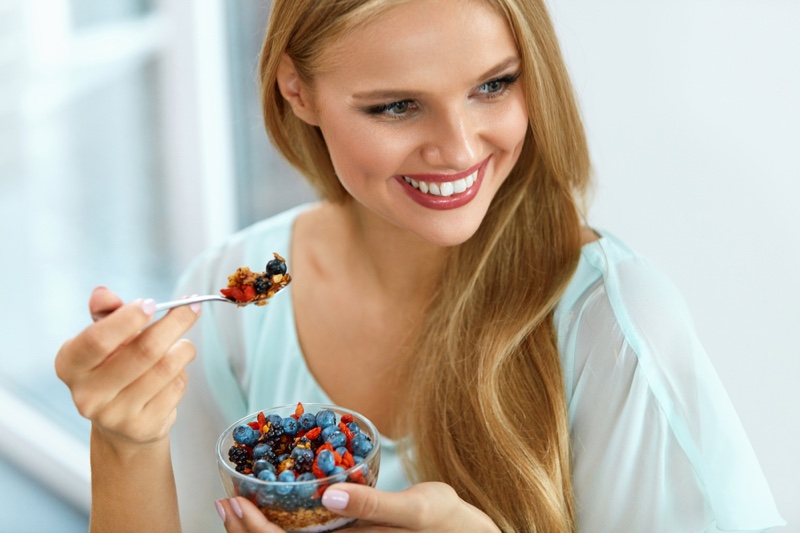 Bloating, belching, heartburn, gas pains, and more – these are common complaints of digestive discomfort experienced by many. Simple modifications to your diet and lifestyle can go a long way in relieving digestive problems and keeping your digestive system functioning optimally. Of course, if your symptoms become severe or won't go away with lifestyle changes, you must seek medical advice. We're are here to help you with easy ways on how to strengthen your digestive system, so your body can break down the foods you eat effectively, increasing nutrient absorption, which is critical to your overall health and well-being. 
Cut Down On Processed Foods
Eating processed foods high in refined carbs, trans fats, simple sugars, and food additives is linked to a higher risk of digestive problems. Food additives and trans fats may cause inflammation in the digestive tract, leading to several complaints such as constipation, bloating, diarrhea, nutritional decencies, etc. Artificial sweeteners used in low-calorie drinks and ice creams are linked to higher incidences of bloating and diarrhea. 
Consume Real Foods
The best way to curb digestive issues naturally is to switch to eating real foods that nature has given us. If you can't differentiate between processed and real foods, know that anything that comes out of a box is highly processed and definitely not good for you. Replace these with whole foods such as grains, veggies, fruits, lean protein, seeds, and nuts. Make it a point to cook at home, so you can control the ingredients and know what exactly is going into your body.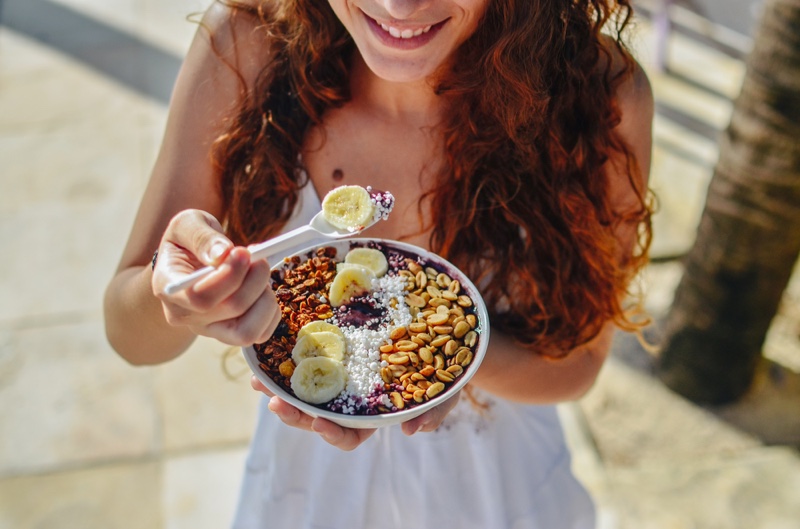 Eat a High Fiber Diet
A high-fiber diet keeps things moving, preventing problems such as constipation or hemorrhoids. There are three types of dietary fiber that are great for your digestive health, including soluble, insoluble, and prebiotics. Soluble fiber absorbs water from stools, preventing loose stools, while insoluble fiber acts like a broom that gets rid of accumulated waste and toxins, resolving constipation naturally. Prebiotics feed the good bacteria in your gut and are important to maintain the balance and diversity of gut flora residing in your digestive tract. Whole grains, veggies, whole grains, legumes, nuts, and seeds are good sources of dietary fiber to boost digestive health.
Drink Plenty of Water
Staying hydrated is one of the best ways of supporting many important physiological functions, including digestion. Aim to drink at least 10-12 glasses of water daily that will pull water into the colon to create soft and bulky stools, relieving constipation. Remember to stick to plain water or non-caffeinated and unsweetened drinks such as herbal teas to ensure you're staying hydrated without consuming too much sugar or caffeine.
Eat Probiotic-Rich Foods
Probiotics are good bacteria that strengthen your gut and assist good digestion by breaking down food efficiently, preventing gas, and bloating. Stress, antibiotics, and many years of unhealthy eating take a toll on your gut health, compromising the delicate balance of gut flora that, in turn, causes several uncomfortable symptoms. Replenishing your gut with good bacteria not only strengthens your digestive system but may also improve your immune system and enhance nutrient absorption. Low-fat yogurt or kefir, fermented foods such as sauerkraut, kimchi, and miso contain live and active cultures that propagate healthy bacteria in the gut. 
Consider Supplements
Probiotics are also available in a capsule form if you're looking to add a supplement to bolster your gut health. CBD supplements such as Ultra CBD may also help improve your digestive system by lowering gut inflammation.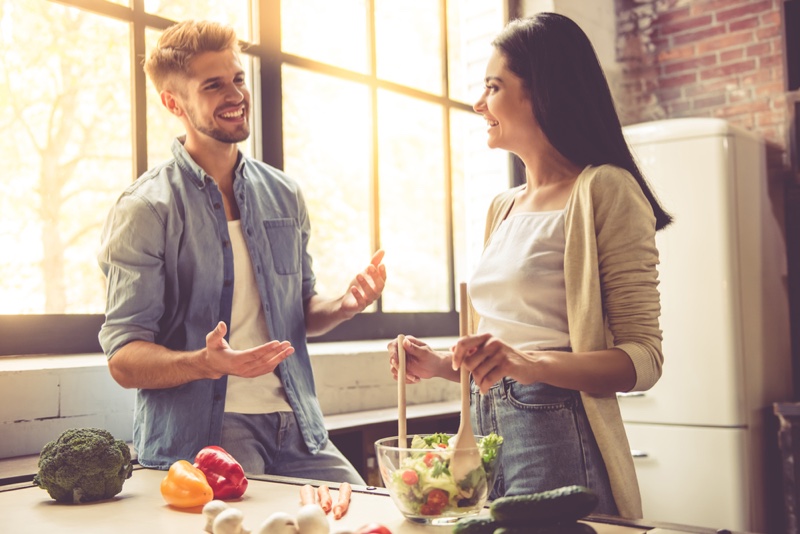 Reduce Oily and Fried Foods
Fatty foods such as fried items and fatty cuts of meat slow down digestion, making you feel bloated and uncomfortable. If you suffer from heartburn or acid reflux, staying away from fried foods and fatty meats can help alleviate your symptoms. Instead, choose lean cuts and skinless chicken or turkey to hit your protein goals without having to endure digestive trouble. 
Add Healthy Fats
Healthy fats such as omega-3 fatty acids are good for overall health, which also improves nutrient absorption. Omega-3 fatty acids have anti-inflammatory properties that can reduce the risk of developing inflammatory conditions of the digestive tract. Fatty fish such as salmon, mackerel, and sardines are good sources of omega-3 fatty acids, while flaxseeds, chia seeds, and walnuts are excellent sources of omega-3 fatty acids for vegans and vegetarians. 
Manage Stress
Stress takes a toll on the whole body and has a significant impact on the digestion. When your body is constantly under stress, it activates the fight-or-flight response during which blood and energy are diverted away from your digestive tract, impairing its function. Stress causes the brain to release hormones that can adversely affect digestive function. It's, therefore, important to reduce stress by practicing stress-reducing activities such as yoga, meditation, acupuncture, etc. Managing stress is a crucial aspect of keeping your digestive system functioning at its best. 
Follow Good Eating Habits
What you eat and how you eat influences the way your digestive system works. Eating at a regular schedule keeps your digestive system functioning well, preventing issues such as bloating or gas. Also, pay careful attention to how much you're eating. It's easy to overeat and over-indulge, but this can lead to gas, bloating, and the feeling of being over-full. Mindful eating where you pay attention to every morsel and actually take time to chew and enjoy your food is now advocated as a natural way to combat digestive distress associated with overeating. Avoid eating when you're feeling anxious or worried, as this may result in indigestion and bloating. 
Take time to sit down and eat your meals at breakfast, lunch, and dinner. Try turning off your electronic gadgets, focusing on the taste and texture of the food. This will help you appreciate every bite and recognize cues of satiety, ensuring you don't overeat. Mindful eating not only relieves digestive discomfort but may also help weight loss.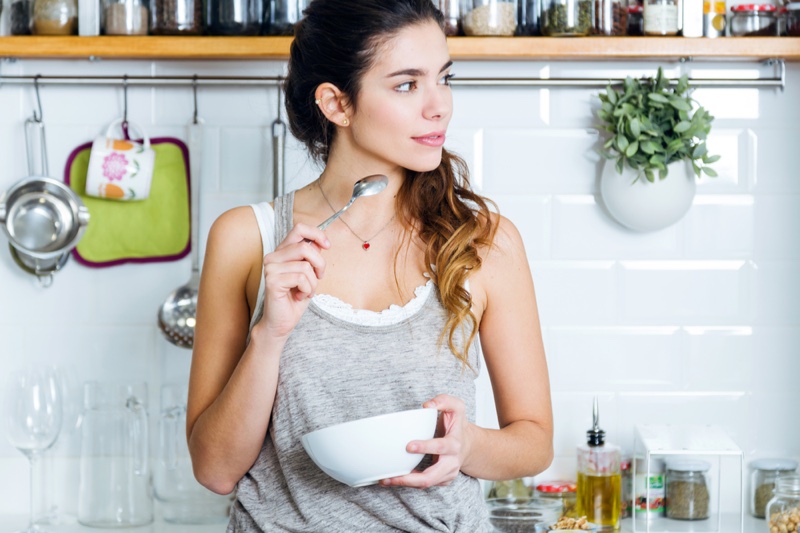 Chew Well
Chewing food generates more saliva, which kicks starts the process of digestion. Chewing food really well breaks down the food, so your stomach has to work less to digest the food, which in turn leads to better nutrient absorption, and prevents indigestion and heartburn. Chewing food also allows you to eat food at a slower pace, which means you won't be swallowing too much air while eating, which reduces gas and belching. Chewing food thoroughly helps you relax and enjoy your food that's vital to good digestion.
Ditch Unhealthy Habits
To ensure your digestive system is functioning at its best, it's essential to lead a healthy lifestyle. Smoking, drinking too much alcohol or coffee, binge eating, etc. are unhealthy habits that will have a detrimental effect on the digestive system. Smoking and excess alcohol increase the risk of acid reflux and stomach ulcers. If you suffer from digestive issues, it's best to quit smoking and reduce alcohol intake. Eating three to four hours before bed gives time for the food from the stomach to move to your small intestine, which is particularly beneficial for those suffering from heartburn and acid reflux. Lying down immediately post a heavy meal forces the stomach acid to rise up, causing acid reflux and heartburn. Creating a healthy lifestyle by getting rid of these damaging habits can go a long way in relieving common digestive complaints of acid reflux and heartburn.
Get Moving
Exercise has great benefits for your health and can help digestive function as well. Aim to get 30 minutes of moderate physical exercise daily to keep your digestive tract working well, preventing bloating and constipation. Certain exercise forms such as yoga can increase blood flow to the digestive tract, stimulating the production of digestive enzymes, improving digestion. Breathing and meditation can help calm the mind, relieving stress that, in turn, keeps your digestion working well.
Avoid Trigger Foods
If you suffer from digestive distress, it may worth recording what you eat that will help you recognize trigger foods that lead to tummy troubles, and avoid them. Keeping a food diary can help identify food allergies or intolerances. Certain foods such as beans, broccoli, onions, cabbage, and cauliflower, etc. can cause excess gas and bloating. Dairy and gluten are also known to trigger problems in individuals with a sensitive digestive system. Different people react differently to trigger foods, making it important to keep track of what foods cause digestive problems for you.
Eat More Veggies
Eating a variety of veggies and fruits gives you a healthy balance of fiber and prebiotics that promotes a good balance of microbes in the gut. Veggies and fruits alleviate constipation and are a natural way to boost gut health, lowering gut inflammation, and reducing chronic digestive problems. Fiber-rich legumes, beans, and whole grains such as oats and quinoa are also great for improving the diversity of gut flora.
Conclusion
A healthy digestive system is linked to a stronger immune system, improved mood, and sharper brain function. If you experience digestive problems, it's time to revamp your diet and lifestyle and see if these changes help. Using one or more of the above-mentioned strategies can help you build a stronger digestive system that can relieve common complaints, improving your quality of life.