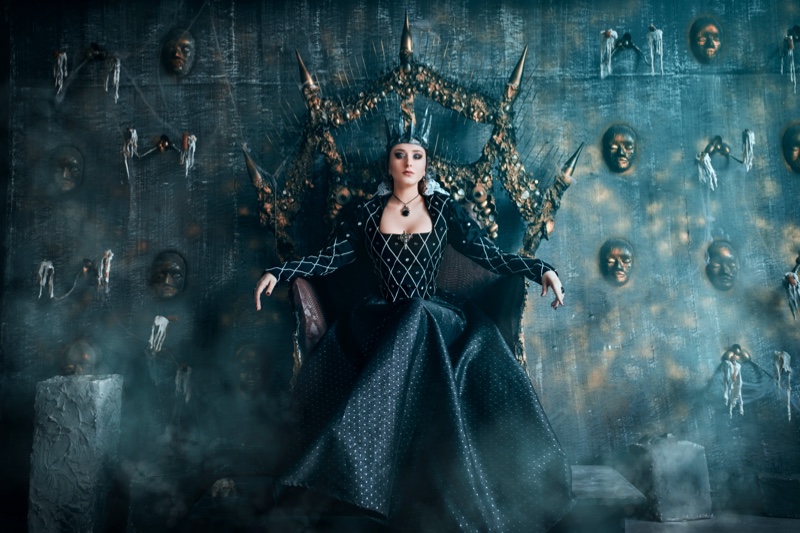 Halloween is a time to dress up as something other than yourself. And from celebrities to us ordinary people, we have seen so many cool costume ideas from the world of film, television, and beyond. So, get inspired for your next Halloween idea with these fabulous finds from around the world wide web.
There have been a lot of stand-out shows from the past year. No doubt, Squid Game took over with its tracksuits and jumpsuits. And there are also shows like Ted Lasso on Apple TV. You can go for something like a famous meme such as a funny gif or photo when it comes to costume ideas. Or, there's even the time Kim Kardashian dressed in all black for the Met Gala. Many people compared her look to a dementor from Harry Potter in memes. But the look certainly had people talking. There is no shortage of inspiration.
Whether looking for a celebrity couple or unique ideas, we rounded up a great list of ensembles from this past Halloween. Too bad it only comes around once a year, right?
Squid Game Costumes
By far, the most popular series we have come across this year on global television was Netflix's Squid Game. The drama series was released on Netflix just a little bit before Halloween and suddenly became the number one most-viewed series on the platform. The two most iconic outfits in the series happened to be the best-selling costumes on numerous sites like eBay, Amazon, and more. We're talking about the classic green tracksuits and red jumpsuits that actors wore on the show. So many people dressed up in these costumes, and a plus is that they were comfortable too.
Grogu (Baby Yoda) Costume
Another really popular costume this year was one of the most iconic Star Wars characters from the latest Disney + Original TV series, The Mandalorian. We have all seen countless memes revolving around this particularly adorable little character, and some of us have decided to even channel him through by dressing up as the baby on this spooky occasion. One of the most famous wearers of this costume was American singer Lizzo, who took the outfit to another level and went viral doing it.
The Slot Machine Costume
When it comes to Halloween costumes, it's all about having fun. And a slot machine can channel some whimsy and certainly stand out from the crowd. It may be a little uncomfortable, but it will make for some great and memorable pictures, making you the life of the party for sure. This costume might not have been the most popular in the world, but it gets an A++ for creativity and the 'what on earth?!' factor. If you decide to wear this, it proves you really love your online slots.
Mars Attack Martian Girl Costume
One of this year's most fantastic celebrity costumes was Kendall Jenner's Martian Girl costume, inspired by the fictional character from the classic 1990s sci-fi comedy TV series that remains a popular visual in many people's minds to this day.
Kendall completely transformed wearing a spiral print leotard, a towering hairstyle that reached more than a foot high and striking red lipstick.
Hailey Bieber's Britney Spears Costumes
Hailey Bieber gave us not just 1 but 4 fully-fledged Britney Spears outfits in some great shots inspired by some of Britney Spears' most iconic images throughout her career. And she even went through the hassle of recreating the pictures with the exact same backgrounds and poses. Hailey definitely served early 2000s nostalgia with these outfits.
Marge Simpson & Sideshow Bob costumes
This one was a lot more on the unique side, and we think it's wonderful! Famous couple Jade Thirlwall and Jordan Stephens dressed up as a particular couple we have never seen together before, even though we might know both characters very well. Marge Simpson & Sideshow Bob from the classic show of The Simpsons, whom we have never really seen together, but Jade left us some backstory to explain what happened on her Instagram. She shared that Marge had been sleeping with Sideshow Bob and Homer met his untimely end. We guess that explains why she's been carrying around poor Homer's decapitated head in the photos! Jade also shared that it took a glam team a week to put together her whole look, including towering blue hair and yellow skin.
Paolo & Isabella + Lizzie from The Lizzie McGuire Movie
Are you ready to take a trip back to the early 2000s? Sophie Turner and Joe Jonas posed alongside Olivia De Jonge for these costumes inspired by The Lizzie McGuire Movie. Joe and Sophie dressed as Paolo & Isabella, a former Italian music combo, while Olivia dressed as Lizzie.