Watch a men's fashion show or simply stream a global award show, and you'll realize that there is a lot for you to pick up and incorporate. If you have not considered the same in the past, here are some inspired yet exciting styling tips for men. But first, if you have facial hair, keep it looking stylish by including beard trimming in your daily grooming routine.
1. Embrace layering stripes
Stripes never go out of fashion, but layering stripes are trending, especially when it comes to cocktail attire for men. Learning contrasting striped pieces open another will not only give you a cool look but also help you and establishing yourself for the right occasion.
2. Try the biker look
Biker look has always garnered attention for men, and it will continue to be amongst the best options for men with attitude. Biker jewelry is cool, and it helps in creating a style statement. You can have a look at different men's ring even at Bikerringshop. Attempting the biker look, make sure that you look for some of the coolest sunglasses and the right jacket. Choosing a misfit jacket can spoil everything.
3. White is the way to go
If nothing works for you, remember that white will always help you get out of a stressed situation. Combining white with anything will make you look good. The best option you have here is to cover your white shirt or t-shirt with a denim jacket and walk like you have the swag.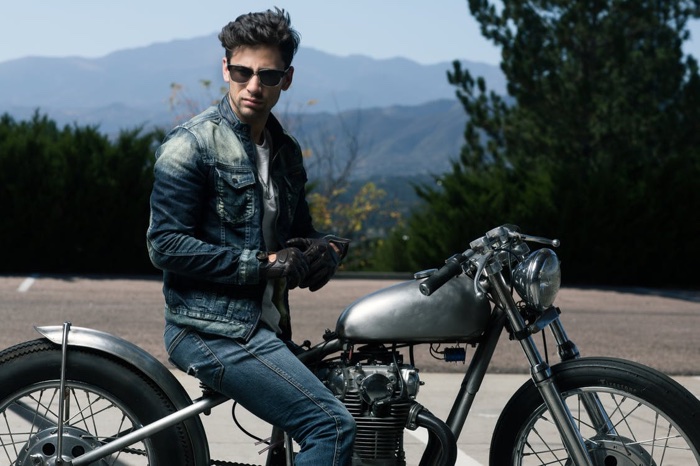 4. Show off your chains
With a simple t-shirt, it is difficult to make a style statement unless you consider letting your chains hang out. This is one trick that will give you a perfect look during summer. The best part is that it is not difficult to wear a chain. Don't look for unique change because even a simple chain will do the trick for you.
5. Roll up your sleeves
Rolling up your sleeves is better than wearing a half sleeve T-shirt or shirt. It is because rolled up sleeves look cool. During hot and humid summer time, it will help you manage your body temperature and keep you at ease.
6. Look for interesting graphic T-shirts
A graphic tee is way better than casual t-shirts we find everywhere. Graphics can create an impact that should be better than adding colors and working hard to make the casual t-shirt stand out. Graphic tees will make you look good on various occasions, and so you should start looking for them. If you want to showcase your latest Jordans or Yeezys with a matching graphic tee, Sneaker Release Tees is a great place to start.
7. Polo shirt
Look at some of the most appreciated rich apparel for men, and you'll see Polo shirt on the list. It gives a uniquely rich look while adding style to your appearance.
To finalize your look, pair some sneakers with your outfit. They offer maximum flexibility. They can be paired with a suit or simply a plain t-shirt and jeans. Selecting the right ones will go a long way in styling your attire.
If your plan is to wear a plain gray t-shirt and black jeans, one shoe that would be a perfect companion is the Jordan 4s University Blue. What makes these sneakers so special? They're a bold new iteration of the classic Air Jordan 4 silhouette. The primary carolina blue color offers a stark contrast to any black plants further showcasing the sneakers as the focal point of the wardrobe.