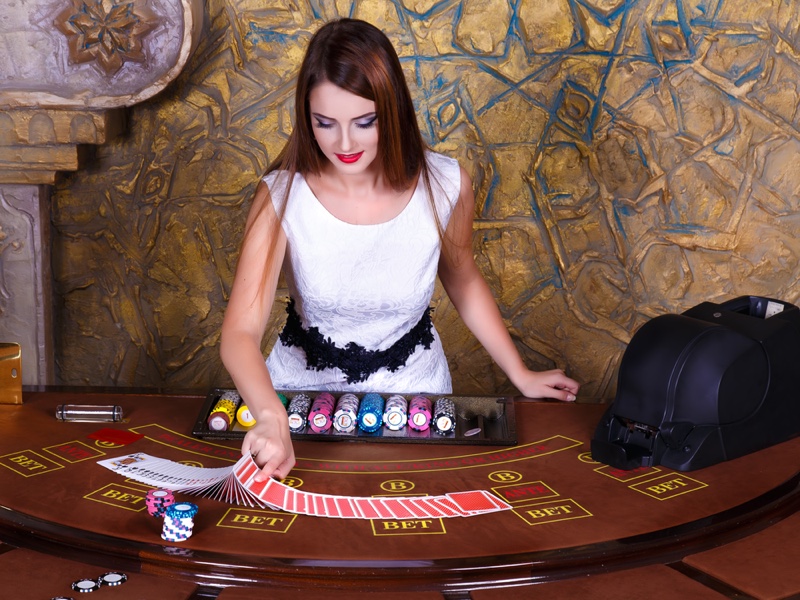 Since the first casino was opened in the 1600s, the gambling culture has been thriving. Many choose this activity as their favorite pastime or the perfect way to celebrate a special occasion.  
In days gone by, you wouldn't find a casino that didn't have a strict and smart dress code in place. However, as time's moved on, this has changed in the majority of high-street venues.
Now, you'll only find the world's most elite casinos insisting on a smart dress, with definite dos and don'ts in place. But there's one group of people in a casino who continue to dress to impress, regardless of what's going on around them – casino croupiers (aka casino dealers).
Below, we'll take a look at how the fashion of a croupier has changed (or not).
The Working Life of a Croupier
To better understand the fashions of a croupier, it's essential to grasp what a croupier's job is.
Why?
Because the role they play has a significant influence on their outfit – they not only need to look good but they need to feel comfortable while they're carrying out their day-to-day tasks, too.
Although the responsibilities they have will vary from casino to casino, you'll often find a croupier dealing cards for a range of games including blackjack and poker, assisting visitors with slot machines or operating the roulette wheel. And due to this fast and varied environment, dealers typically have to be adept at working or dealing most of the games the casino has to offer. Sites like Online Casino Bluebook offer virtual playing for those who don't want to leave the comfort of home.
Croupiers primary role is to make sure patrons are having a good time, which includes impeccable customer service at all times – hence the need for them to be presented well, too.
What Have Croupiers Worn Over the Years?
If you trawl back through picture archives of casinos, you'll soon notice a couple of things.
First, the fashion of the visitors has changed dramatically with time (as we've already mentioned). You'll no longer find ultra-glamorous women and suited and booted men around every corner in a casino – unless you're heading to a high-class one that's got a reputation for upkeep. Instead, you'll find a mixture of fashions, from smart-casual get-ups to evening dresses that stand out from the crowd. Within reason, anything goes in a casino – you just won't get away with trainers, tracksuit bottoms or scruffy outfits in most of them.
But what hasn't changed as much?
The fashion of the croupier.
When you look back, you'll find the smart, suited look for both men and women hasn't altered much at all. They're still well presented, wearing black dresses or suits, and their outfits still boast a traditional edge.
What's the reason for this?
Well, the look and feel of a casino are crucial. And even though guests aren't as strictly monitored as they used to be, staff members are still encouraged to dress in conventional uniforms that have an air of sophistication.
When people visit a casino, they want to embrace the culture of it, and that's why much of the décor and the uniforms within it haven't changed much.
Imagine if you walked into a casino to find dealers in brightly colored clothes amidst sleek, minimalistic interiors. You wouldn't feel like you'd walked into a casino, would you?
That's why, even if you're embracing the growing trend of online casino and live tables, you'll still see the croupiers smartly dressed. This is because it creates that real-life casino experience that people are looking for, and anything that deviates from the norm won't capture this sought-after spirit.
What Do Croupiers Wear?
To retain this conventional look, you'll often find male croupiers wearing smart suits with white shirts and bowties. This doesn't always include a suit jacket as they need to move around freely when they're dealing, so they'll often ditch the jacket in favor of a waistcoat. You may also find them wearing their standard green visor, too!
Female croupiers may also adopt this look, opting for feminine blouses, cute bowties, and figure-hugging waistcoats. They may also choose a smart black cocktail dress for events or more upmarket casinos. And in the truly elite ones, you may even find them dressed up to the nines, emulating the bygone era where women would be adorned from head to foot in luxury and style.
However, it's important to remember that casino dealers don't receive a high salary (on average), with basic salaries being around £18-19,000, which can go above £20,000 with tips. However, cruise liners do tend to pay their croupiers a lot more, especially when they're on a tax-free contract.
Therefore, these outfits are put together in the most affordable way possible (unless they're provided by the casino). High-street stores that specialize in smart work attire for men and women are the ideal places for these outfits, and croupiers will often be able to pick up something that has a subtle hint of their personality, too. For example, they may choose to deviate from the white shirt (if their casino permits) in favor of a patterned design, or they may opt for an elegant dress.
As you can see, fashion may change, but croupiers don't tend to, and it's this nod to history that creates the vibrant, welcoming atmosphere that many casinos are renowned for.