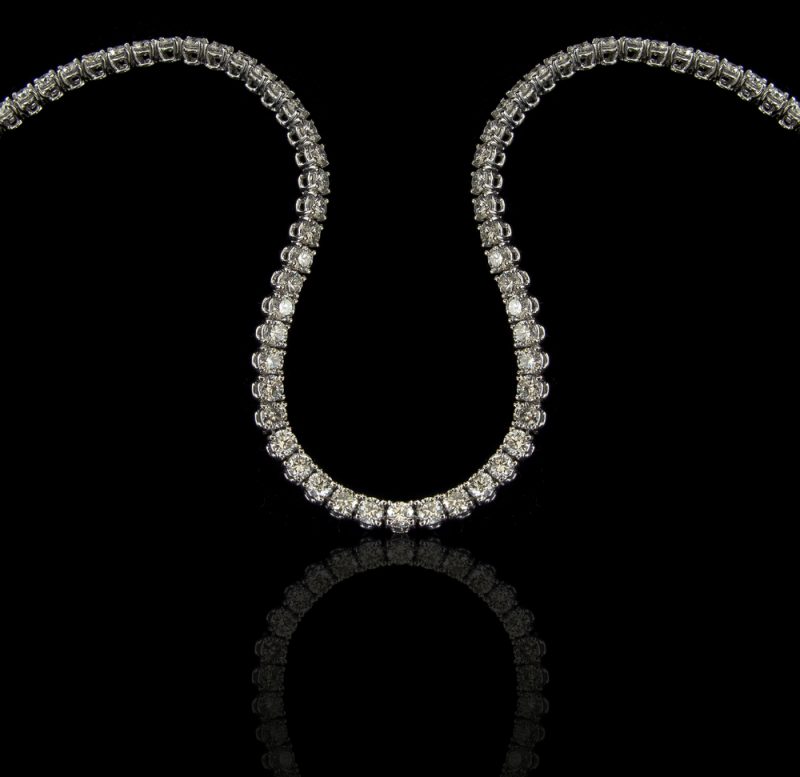 Tennis bracelets first became popular in the 1980s and have stayed popular throughout the decades. Tennis necklaces are a newer trend that is currently cresting with gorgeous iterations of diamond tennis necklaces appearing on fashionistas and celebrities around the globe. Who is wearing these diamond-laden stunners, and why are they so prevalent in today's fashion world?
What is a Diamond Tennis Necklace?
Strictly speaking, an eternity necklace or diamond tennis necklace is a complete, unbroken strand of diamonds that forms a perfect circle around the neck. It's usually shorter, in the 16" to 20" length, but they can come in varying lengths. Some diamond tennis necklaces are single strands, but for the added impact, you can wear either more than one strand or a double strand. These are sometimes referred to as diamond chokers, but not all chokers are a full strand of diamonds and not every diamond necklace is a tennis necklace. Sometimes a women's tennis necklace will have graduated stones, seldom matched stones with a central, larger stone for a dramatic impact. You'll also see some that are a modified Y-necklace with some pendant dangling from the center. Generally speaking, if it's a strand of diamonds that encircles the throat, it's considered a tennis necklace. Most diamond tennis necklaces are set in white gold or platinum, although you can also spot them in yellow gold or rose gold.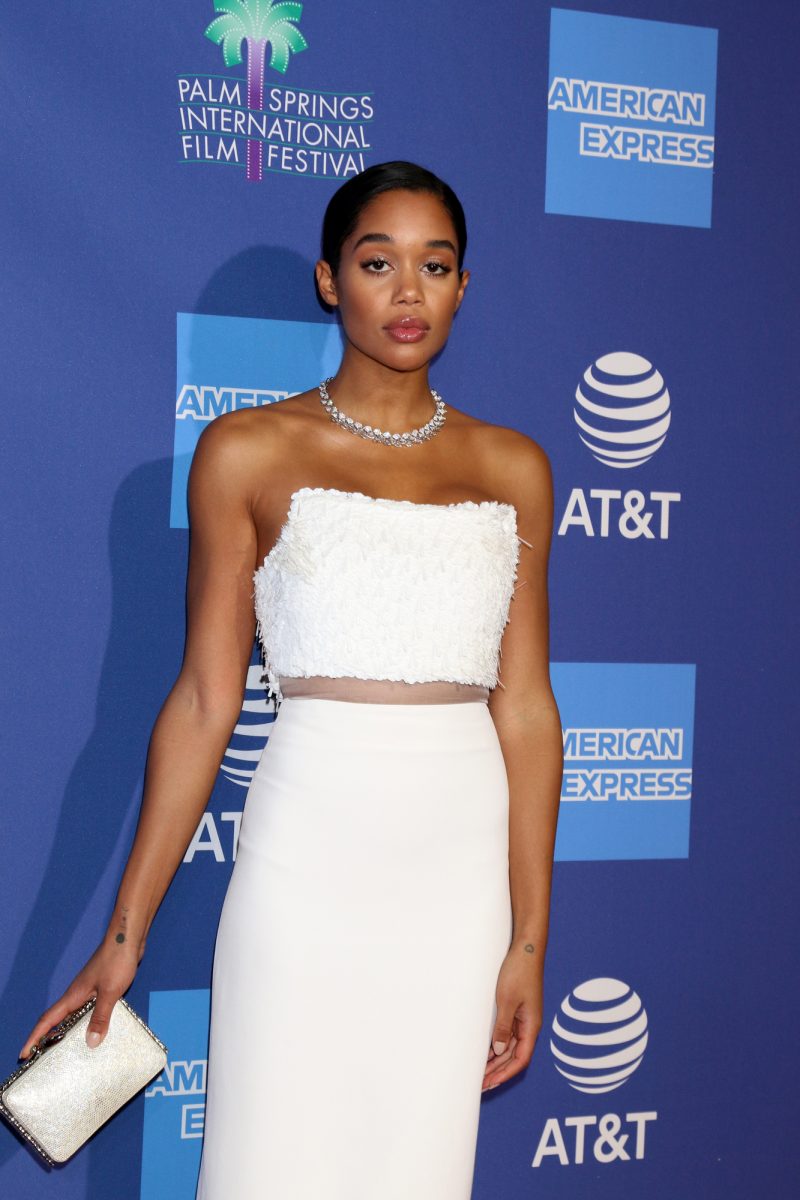 Celebs Rocking the Women's Tennis Necklace Trend
Search for images of women in tennis or eternity necklaces, and you'll be rewarded with countless photographs of the world's most beautiful women showing off the column of their necks with generously sized strands of sparkling diamonds. Watch any awards show or gala, and you'll see the vibrant fire of diamonds wrapped around the necks of the rich and famous.
Classic Tennis Necklace Lovers
There are multitudes of women who wear a classic diamond tennis necklace that is between 16 and 18 inches long, including such luminaries as actress Laura Harrier, who has been seen wearing an impressive Bulgari tennis necklace with a full 75 carats of diamonds. There's no way to miss this remarkable piece of jewelry, and it perfectly accents the open necklines Harrier favors. Jennifer Lawrence also enjoys the classic version, wearing a delicate, Tiffany version with many of her gowns. Naomi Campbell has been seen wearing her tennis necklace both by itself and stacked with other diamond and gemstone styles.
Others who have been spotted wearing delicate versions of the classic necklace include model Karlie Kloss and English actress Lily James, both of whom have worn dainty tennis necklaces set with perfectly matched diamonds set in either white gold or platinum. Zendaya Coleman, the multi-talented actress, singer, and dancer, has worn a delicate choker of diamonds with several favorite outfits. She likes her diamond tennis necklace set in yellow gold rather than white gold, which adds a surprising pop of color and gives the necklace a more individualized look.
Variations for Dramatic Style
Dakota Fanning is another fan of the classic style of tennis necklace, wearing a single strand of matched diamonds with several styles of the gown over the years. Amy Adams also likes the look of a classic necklace but chooses larger stones that are graduated in size. Gina Gershon sometimes wears a graduated diamond tennis necklace, although the necklace she wears has each diamond framed in gold and set a bit farther apart than in a more traditional style, setting each stone off individually rather than looking like a continuous chain of stones.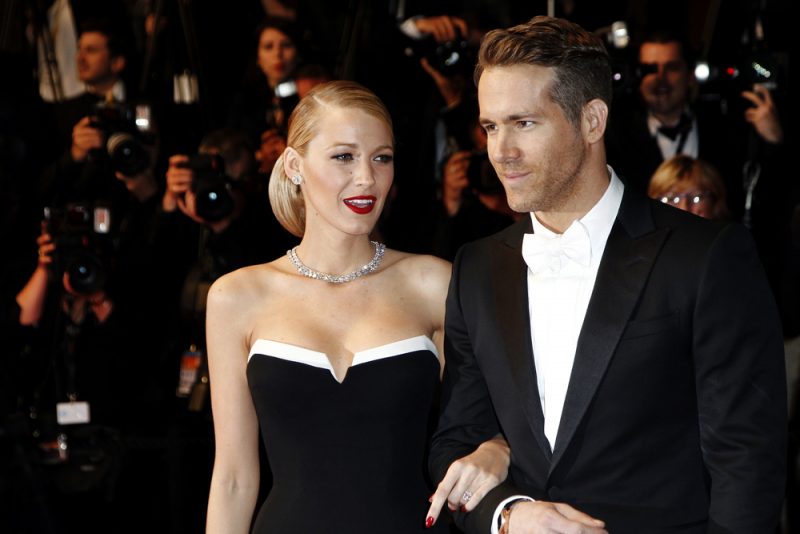 Award-winning actress Uma Thurman has been seen wearing not one but two tennis necklaces with graduated stones at the same time for a dramatic impact. Blake Lively seems to have started the trend of stacking diamond tennis necklaces of slightly different lengths when she wore them to the Cannes Film Festival back in 2014. Pro golfer Natalie Gulbis recently chose to wear a cleverly designed necklace that gives the appearance of two strands that is one tennis necklace with two rows of diamonds.
Going to Greater Lengths
While most people think of a diamond tennis necklace as a relatively short, choker-like strand, they can also be quite long, including Opera length and even Rope length versions appearing on fashion runways and red carpets. Both Sharon Stone and French actress Marion Cotillard have worn longer length ropes of diamonds when wearing evening gowns.  Angelina Jolie's Opera length tennis necklace features stones in various cuts in a repeating pattern for increased visual interest and sparkle.
Unique Tennis Necklaces
While many of today's celebrities are loving the look of a strand of diamonds, they are also choosing designs that reflect their personal style. Kate Bosworth wowed her fans when she wore a stunning tennis necklace that was open-ended, slipping around her neck with one end hanging down farther than the other to show off her collarbone beautifully.
Angelina Jolie isn't the only woman who has worn a tennis necklace with stones of various cuts. While her more extended length version is stunning, shorter variations have just as much impact. Model Rosie Huntington-Whiteley's diamond bow choker is one of the most unique, with a continuous strand of diamonds in several cuts accented by a diamond bow set to one side. Nicki Minaj decided that a classic wasn't her style, so she chose a tennis necklace with each diamond mounted in a halo setting.
Y-style diamond tennis necklaces are another way celebrities show off their love of diamonds, as they can add a unique touch with whatever pendant is suspended from the center of the chain. Elizabeth McGovern has more than one Y-necklace, including one with a three-stone pendant and another with a gorgeous diamond cross. Model Arizona Muse has also opted for a Y-necklace created from a classic tennis style.
Why Is the Diamond Tennis Necklace So Popular?
Celebrities have been wearing tennis necklaces for years, as have women from all walks of life. The popularity of these necklaces can be attributed to their status as a "new classic" that goes with everything. While a generation ago diamonds were considered more suitable for evening wear, today's women can wear them any time of day or night. The simple, fuss-free look of a tennis necklace makes it ideal for throwing on with slacks and a blouse for daywear as well as for flaunting with a strapless gown in the evening. 
You get plenty of flash and drama with a diamond tennis necklace without having to worry about a too-fussy design overpowering your gown or blouse. It's the perfect complimentary piece to wear, no matter what clothing you have on. Because the lines are clean and straightforward, the focus is on the beauty of the diamonds themselves rather than the mountings or design. The next time you want to invest in exceptional jewelry, consider a diamond tennis necklace. It will look as fresh and lovely in ten years as it does today. Classics and diamonds never go out of style.
"The article is written by Lori Hilliard"