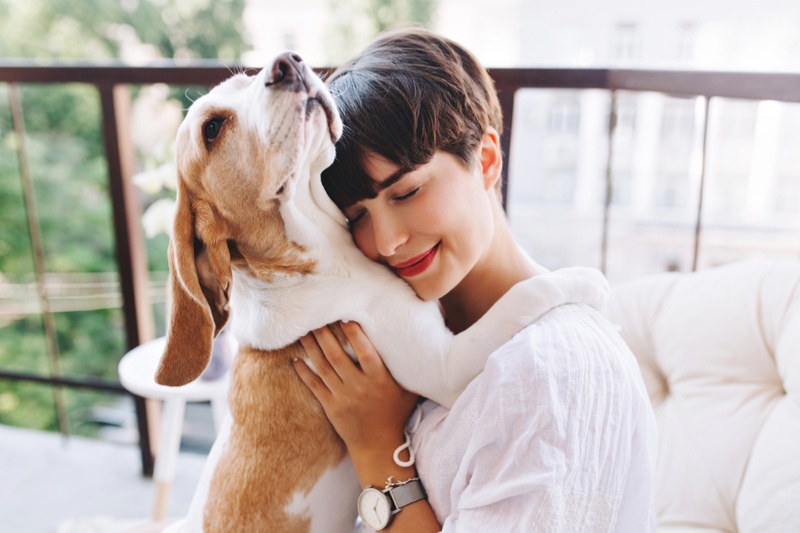 Just like humans, dogs can step or land wrong and get injured. That's why it's important to keep your pet insured with reliable insurance like Bivvy. This often leads to a limp or it may even hold one foot off the ground if it is too painful to put pressure on it. When this happens to a human, you can take advantage of supports like crutches, leg casts, or even wheelchairs – but dogs need your help.
The Dog Brace
The company Doggy Brace makes a special dog ACL brace for dogs of all sizes. The brace helps to support the injured rear leg and strengthen it after an injury. Injuries such as a sprain, pulled muscle, or minor tear are common among dogs. In most cases, they are still going to try and walk on it just so they can get around.
How It Works
When the dog brace is put on correctly, it works the same way as a knee brace for humans. After suffering from a knee injury, a human finds that the knee seems weaker, is not as stable, and you will experience pain when placing pressure on it. After you put a knee brace on your knee, you discover that you can walk better, have less pain, and your knee is more stable.
The doggy brace does the same thing for a dog. It gives the knee joint greater stability when using the leg and strengthens the joint, keeping them within their normal range of motion, leading to less pain. This helps it to heal faster and the dog will be more comfortable as it does so.
Without a leg brace, an injury could lead to the need for surgery. This may be especially true if the dog is normally very active. Instead of letting the leg rest and heal properly, it may be making the injury worse by walking on it excessively or even running – if it can tolerate the pain.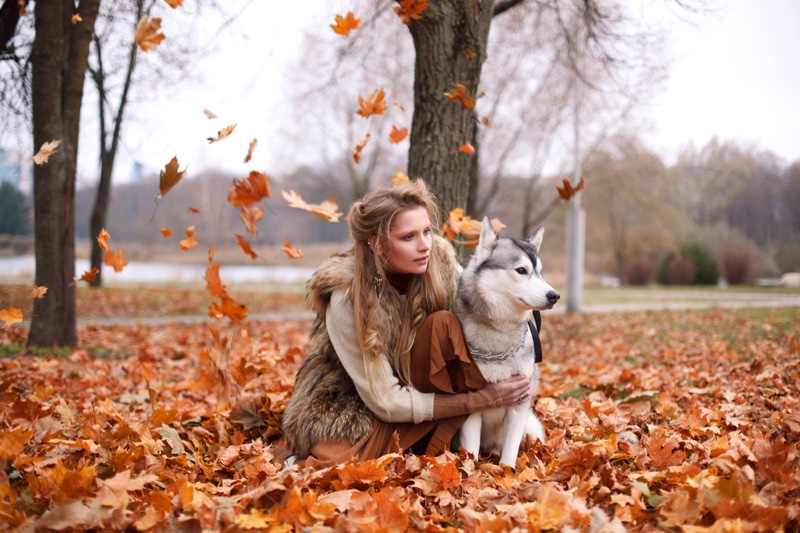 How to Tell If Your Dog Is Injured
Dogs can feel pain just like humans and they will try to avoid putting pressure on that limb if pressure makes it hurt. Trying to stay off of that limb will make it rather obvious that the dog is limping. Keeping the leg stiff is another indication that the leg is in pain.
Problems with a hind leg may cause a dog to avoid climbing stairs. It may also tremble or shake because of pain, or it may pace – not being able to sit or lie still comfortably. A hurting leg may result in being slow to get up. The injury could also cause swelling and may be painful when touched.
Another way to tell if your dog is in pain is when it becomes more vocal. They may yelp, howl, growl, whimper, or snarl when there is considerable pain. It may also sleep much more than usual, or have a change in its eating and drinking habits. A hurting dog may also sit in an unusual position to avoid putting pressure on the leg.
Factors That Lead to More Injuries
Your dog may have one or more factors that will increase the likelihood of an injury. These factors include:
The type of dog – certain dogs have a higher likelihood of developing a leg injury. They include Labradors, St. Bernards, Rottweilers, Mastiffs, Akitas, and Newfoundlands.
Overweight – having a few extra pounds will put a dog at a higher risk of a leg injury.
Age – older dogs have an elevated chance of a leg injury.
Healing
A dog's leg will normally heal on its own with time. The purpose of putting a dog ACL brace on it is to provide support for it and to strengthen the leg. It will reduce the pain and may help to reduce the possibility of making the injury worse.
Dogs do not technically have an ACL (anterior cruciate ligament). Instead, they have a CCL (cranial cruciate ligaments). They are very similar and serve basically the same purpose, which is why they are commonly called ACLs.
Preventative
Besides putting on a doggie brace when there is an injury, it may also be used to help prevent injuries. When one leg is injured, a dog will tend to shift its weight onto the opposite leg. This could make the other leg prone to injury as well.
The makers of the doggie brace received insight from athletes that wear knee braces – even when they do not have an injury at the time. They wear it to prevent an injury. Knee injuries are often caused by twisting the knee joints and muscles too far when making a sudden turn or pivot. The knee brace helps prevent that from occurring.
Placing the leg brace on your dog's injured leg enables more weight to safely be put on that leg. This will help to prevent the dog from putting more weight on the healthy leg – preventing it from also being injured.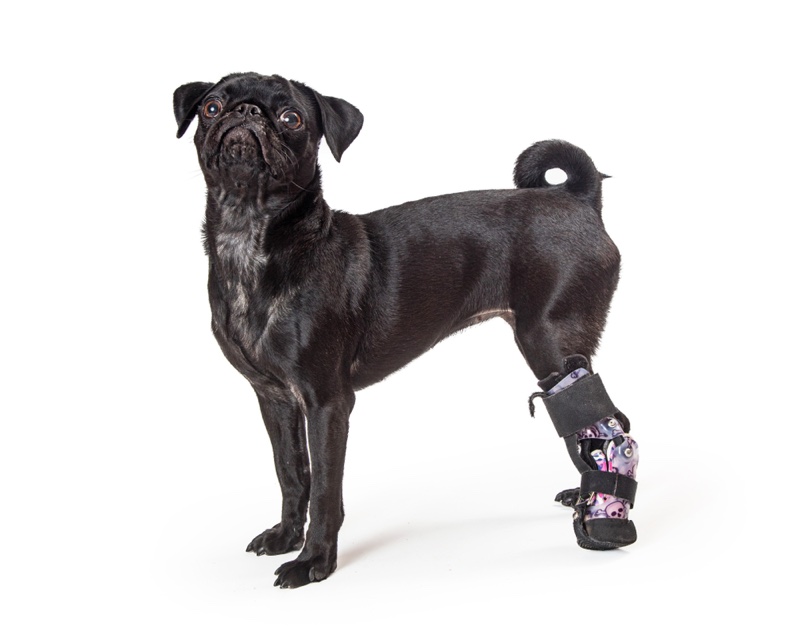 The Materials
The dog ACL brace is made of neoprene and it fits on your dog's hind leg. Neoprene is a synthetic rubber that is highly washable and durable. It is also very strong and flexible – able to move with your dogs' motions. It can last for many years. It is the same material that is used to make skin diver's wetsuits. It is tough – resistant to scratches and also weatherproof.
The brace has no metal or hard plastic on it anywhere. It is entirely made of neoprene and Velcro straps.
Cleaning is also very easy. You can wash it with soap and warm water. You only need to let it dry before reuse. When you are finished using it, just store it in a dry, cool, and shady place. If left in the sun, it may fade.
Adjustable Straps
The doggie brace has adjustable straps on it. These help to hold it in place. When putting it on, you want them to be snug, but not tight enough to cut off the circulation. Make it tight enough so that the brace is right up next to the leg so that it can provide support for it.
Since the dog cannot tell you when it is too tight, you will need to watch the dog for any telltale signs that it may be too tight. They may try to pull it off with their teeth or use another paw to attempt to remove it. You may also be able to tell if the dog seems uncomfortable.
There is also a strap that goes over the back of the dog. It can be adjusted. It helps to provide additional support for the dog's injured leg. Some dogs cannot tolerate this strap. If that is the case, you can cut it off with a pair of scissors. It is used to provide extra support for the leg but it is not necessary to hold up the leg brace.
After putting it on, you may notice that the brace is slipping down. This is possible if the straps are not snug enough or if the dog is very active. When the straps are correctly tightened, it should not slip.
Surgery
In some cases, you may be told by the veterinarian that the dog needs surgery to fix the leg or knee problem. You will often hear this when the dog has a torn ACL. This type of injury is not going to heal correctly without surgery. When it is torn, it can heal to some degree, but the dog will likely not be able to go on runs or long walks.
When surgery is recommended, find out if there are other options. When surgery is needed, the leg brace is not going to be able to remedy it, but it might buy some time. Otherwise – you will want to get the surgery done soon. Be sure to follow the veterinarian's advice.
After the surgery has been successfully completed, if the veterinarian advises it, the leg brace may be worn to help speed recovery. It will help to stabilize the leg and restrict movement, and it will reduce pain as it recovers.
The Sizes
Doggie braces come in a variety of sizes: small, medium, and large. This lets dog owners get the ideal size for their dog. Before placing an order, it will be necessary to know the dog's weight and length of the dog's upper thigh. This will enable you to get the right size and a comfortable fit for the dog. All braces come in the same color – black.
After putting the brace on your dog's leg, you will want to watch your dog to see whether it will tolerate it or not. Some dogs will not and they may try to chew it off. It is tough, but you will want to watch for this behavior.  It may mean that you need to adjust it so that it is more comfortable.
The dog ACL brace is available on Doggy Brace. Because there are no buckles, it can be put on or removed easily and quickly. Help your dog be happy and more pain-free today!