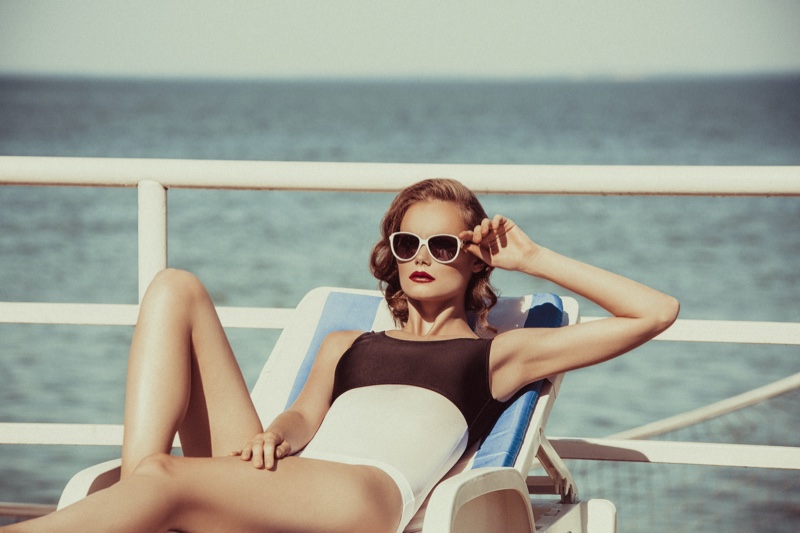 For many women, buying a swimsuit is a fraught experience. Just as with any other item of clothing, you need to buy a swimsuit that will flatter your body type – but that can feel hard to do when donning a swimsuit means showing so much of your skin.
Fortunately, a swimsuit can easily flatter your figure and can do a lot to hide trouble areas, like a long torso, large tummy, or small bust. The key is to choose a swimsuit with features that draw attention to your attributes and tone down what you're self-conscious about. Here's what you need to know to buy a flattering, fashionable swimsuit for your body type.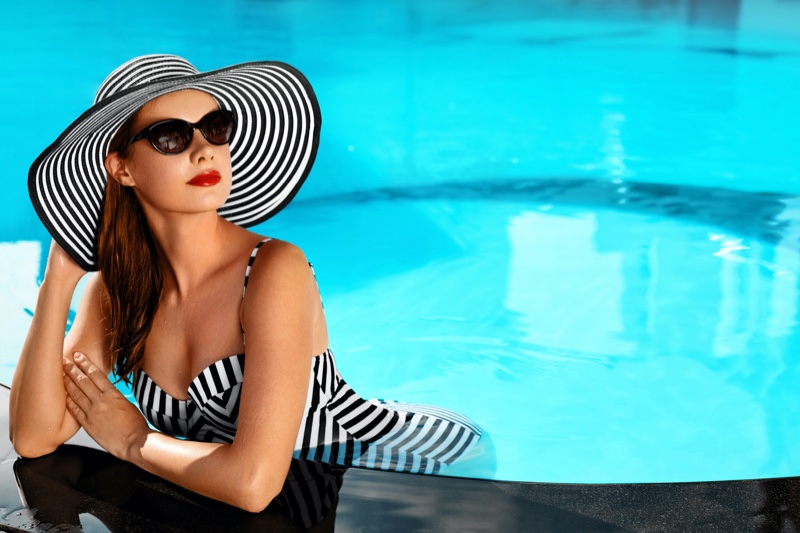 Pear Shape
Pear-shaped women have wider hips and thicker thighs, with smaller busts. While thick hips and thighs are not a problem, you probably want to look for women's swimsuits that will downplay your larger hips and thighs and bring some balance to your proportions by making your bust look more prominent.
The best way to do this is to look at swimsuits that create the illusion of a larger bust while downplaying the size of the hips and thighs. Avoid suits with boy shorts, thick-banded bottoms, or bottoms with a lot of extra fabric. Go for retro-style, high-waisted bottoms in a solid, dark color or a swim skirt that comes down to just below the largest part of your thighs. Mix and match them with an eye-catching top that will create the illusion of a larger bust with extra fabric, like ruffles and other embellishments. Plunging necklines and monokinis with cut-outs can draw the eye upward to help balance out your figure.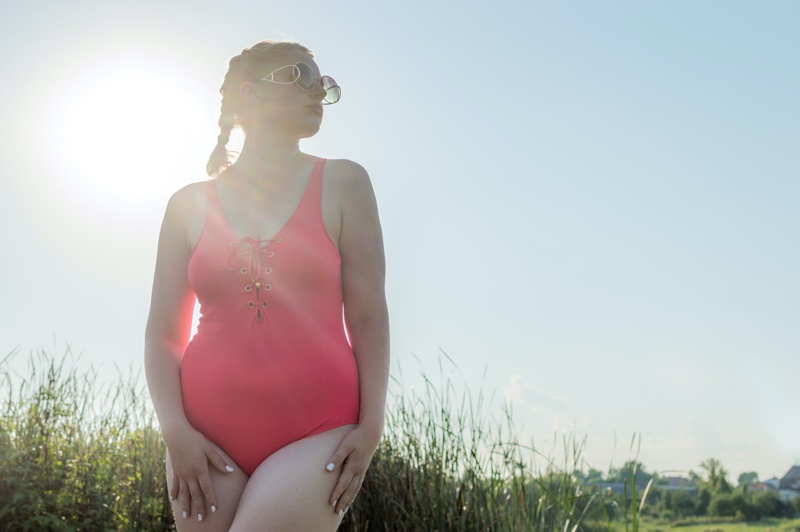 Apple Shape
If you have an apple-shaped body, you likely have slim arms and legs and carry all of your extra weight on your belly. High-waisted, retro-style bathing suit bottoms can come up over your stomach to hide it. Choose a retro-style bikini with a high-waisted bottom that comes up over your belly. Shirred panels in the bikini bottom will help further obscure your extra weight. Surplice-wrap designs slim and define the waist, while fabric embellishments, ruffles, bright patterns, and other details on a bikini top will draw the eye upwards to your decolletage.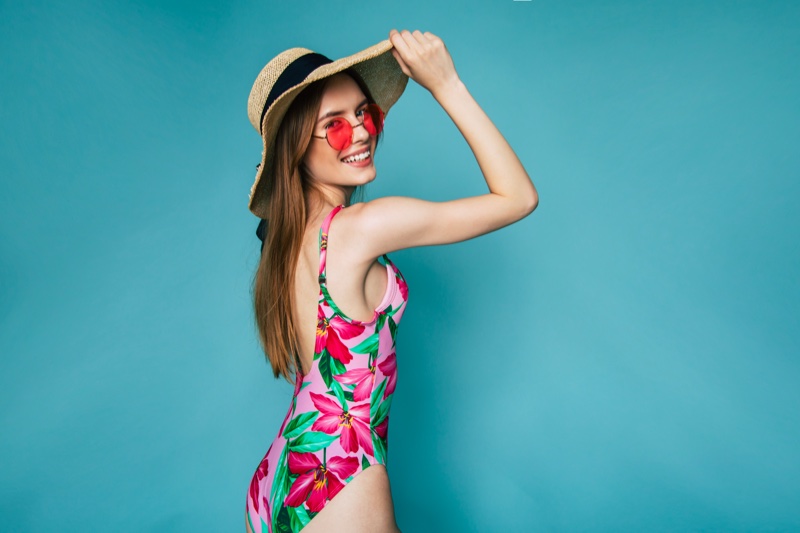 Small Bust
If you have a small bust, you can get away with wearing bandeau and halter-top styles, scoop tops, and low-cut necklines. Create the illusion of a larger bust with ruffles, bold prints, and embellishments on your bikini top. Choose a bra top with underwire and padding to give yourself a little cleavage and enhance the size of your bust.
Large Bust
If you have a large bust, support is what you'll want the most in a swimsuit. Avoid bikini tops sized as small, medium, or large. Instead, go for styles sized like bras are, with a band and cup size. Grab something in your regular bra size for the support you need. Underwires, molded cups, and full coverage will give your bust the support it needs.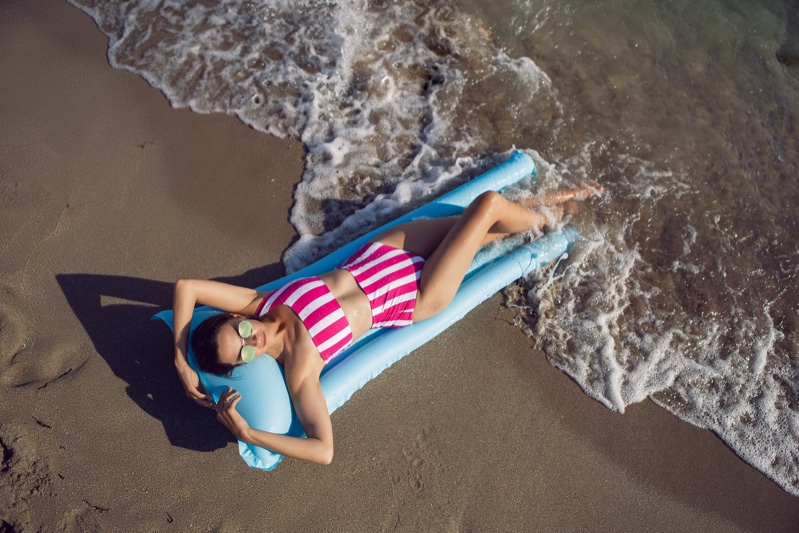 Long Torso
If you have a long torso and shorter limbs, go for high-waisted bikini bottoms. They'll make your legs look longer. Monokinis and one-pieces with cut-outs can accentuate your curves and balance out your proportions.
Athletic Shape
To create the illusion of curves on an athletic body type, go for skimpier suits. Less coverage will play up your curves and create the illusion of a larger bust and wider hips. Look at swimsuits that feature ruffles, embellishments, and bold prints on the top and the bottom, as these will make your bust and hips look curvier. Smaller bottoms will make your hips look more prominent. Tie side bottoms have a similar amplifying effect on curves, enhancing the appearance of your hips with the added benefit of offering a better fit.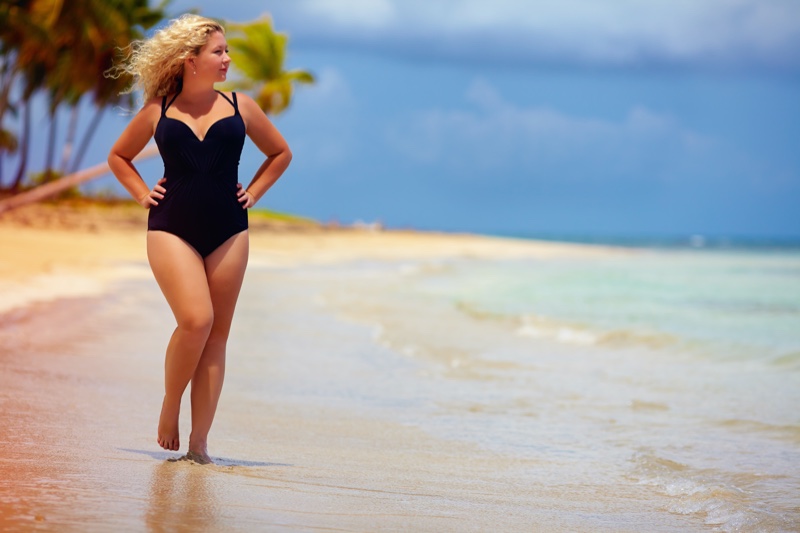 Hourglass Shape
If you have an hourglass shape, you have a small waist with a bust and hips about the same size. You'll want to avoid monokinis and bikinis with thick ties, as these will accentuate your curves when what you need is support. Shop for bra-sized bikini tops with underwires and padding. One-pieces with color blocking will highlight your enviable shape, while asymmetrical cuts will draw the eye towards your neckline.
Buying a new swimsuit doesn't have to be an intimidating ordeal – not when you know how to shop for your body type. The right swimsuit will accentuate your good features and downplay those you're not so proud of, so you can feel confident and beautiful as you lounge on the beach.