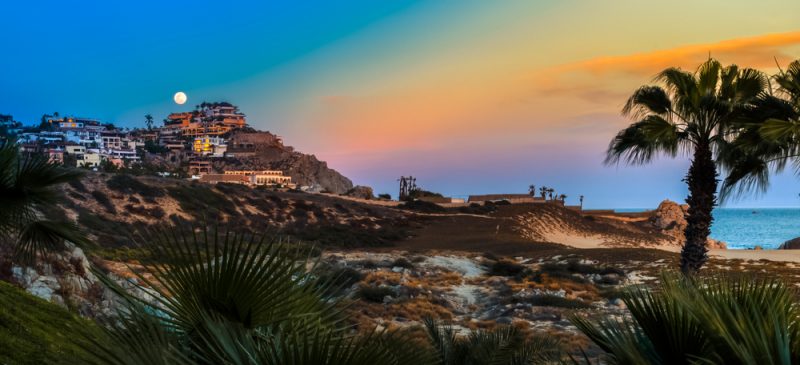 Leave the worries of the COVID-19 pandemic aside. The Mexican authorities have implemented stringent safety and hygiene protocols to protect you throughout your journey from the airport to your resort and beaches. What you'll need is a Mexico Tourist Card from iVisa and lots of love. Leave the rest up to the naturally beautiful and romantic locations, designed as a treat for all your senses. Take a stroll along the coasts filled with sparkling white sands, relax your mind listening to nature's white noise – ocean waves while feeling the glowing warmth on your sun-kissed skin and sipping some chilled Mexican drinks… These beaches have got it all. What more do you need? Keep reading to find out how and where you can get your groove on.
1. Los Cabos
Top of the list for a reason!
Los Cabos is romance and luxury redefined. Starting with the classic lover's beach, spoil your partner to a heavenly meal at a celebrity-owned hotel or restaurant and wind down with the famous couples spa treatments. Don't be surprised if you spot a star or two in one of the two coastal towns of San Jose del Cabo and Cabo San Lucas that make up Los Cabos. Come home to the comfort of your private jacuzzi and suites with luxurious bedding and dining. Yachts are aplenty, and why wouldn't they be? This picture-perfect sunset-watching coastline, when paired with a margarita de tamarindo and a side of ceviche, will seem like it's just meant to be… and it is.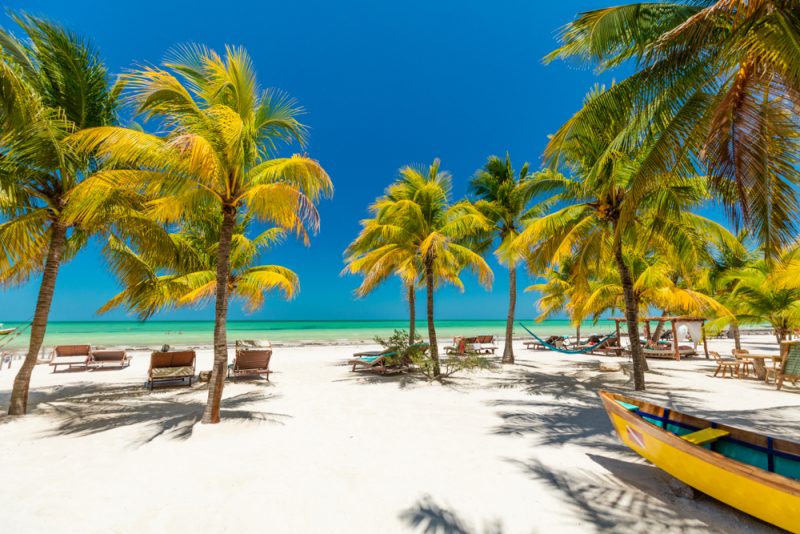 2. Isla Holbox
Get your dose of the Caribbean vibes here.
One of the more laid-back destinations in Mexico, this car-free island is all about the chill life. Still considered relatively untouched, the island is all about the quaint shacks, colorful murals, and quirky restaurants. What's more, is that you can see flamingos or go swimming with whale sharks! All this and the ocean? Count us in. Holbox is a beautiful bohemian paradise, perfect for the backpacker couples and the ones seeking a little more boutique-y luxury. It's a place that you and your loved one must experience at least once in your lifetime. 
3. Playa Progreso
Charming yet secluded, discover this before the crowds do.
Only a few non-commercial holiday destinations are still around in Mexico, and Progreso beach is one. Being the definition of relaxation, the beach shacks, the malecón, the lighthouse, flamingos and lagoons, help this beach town serve up a platter of perfection in a pretty package. Lying on the Yucatán Peninsula, it is a far cry away from the hustle & bustle of its neighbors Cancun and Tulum. This is where you should go if you want a charming getaway set to the scene of a typical Caribbean beach.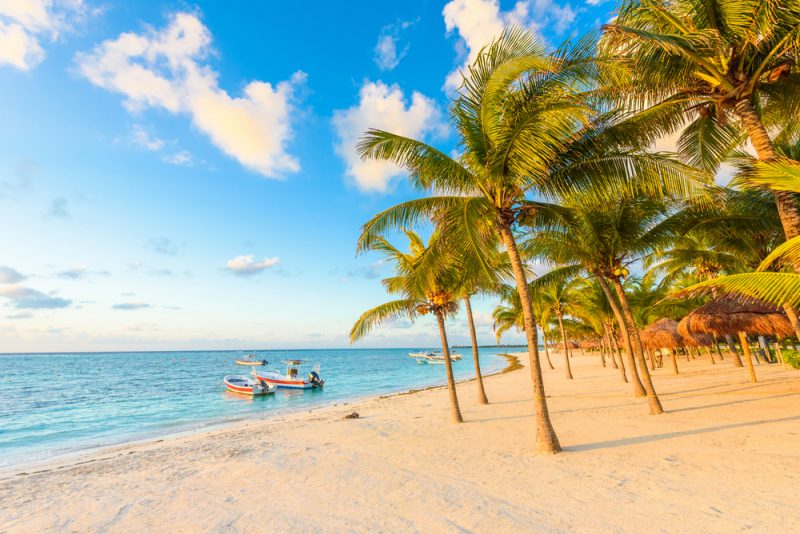 4. Akumal, Riviera Maya
A heart-shaped wonder.
Picture this – you, your partner, and an underwater cave in the shape of a heart. Sounds magical, right? Well, you can rely on Akumal to make this magic happen. Apart from this natural wonder that seems like Mother Nature's contribution to Valentine's Day, this coastal resort in Riviera Maya on the Yucatan Peninsula has the heady combination of warm waters, white sand, coral reefs, and an air of exclusivity. You could even choose to take a break from the beach (why though?) visit the animal sanctuaries, natural aquariums, and mystical underground rivers.
5. Punta Mita
Escape the city in style.
A real hidden gem, in short. A peninsula that houses a breathtaking bay spotted with majestic humpback whales, resorts with pools that stretch to infinity, aquatic adventures, pristine beaches, private serviced cabanas, golf courses, tennis courts, and luxurious hotel options… all on a star-studded 1500 acre private island off the coast of Puerto Vallarta. This idyllic tropical getaway is made for couples like you to let your hair down and let the sea breeze work its wonders on you.
There's not much left to say except – you and your loved one were meant to be… in Mexico! Treat yourselves to a chance to unwind from the stressful year 2020 has been. The sun, sand, and sangrias await. Grab a Mexico Tourist Card from iVisa and get set to jet to your slice of heaven!