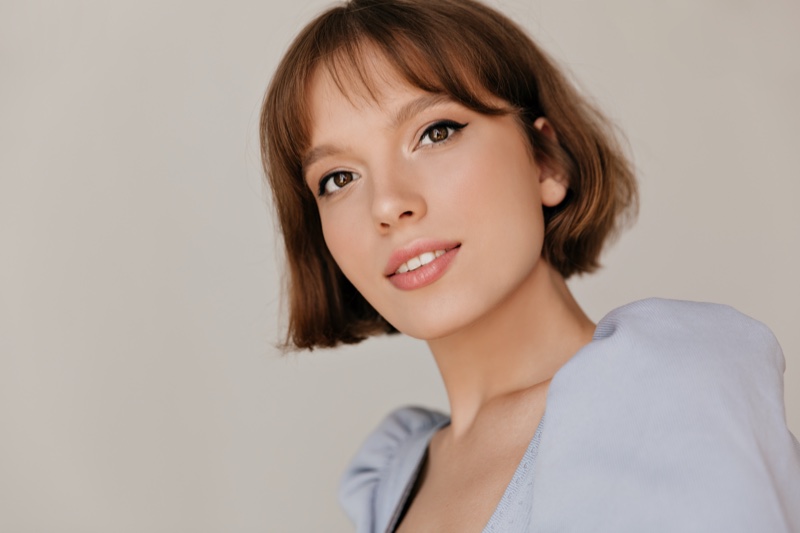 Ever wondered why a lot of acne appears on your forehead? Like maybe there's a neon sign indicating a pimple party is happening there, and they all just showed up at the same time?
Well, forehead acne is not a problem you're suffering from alone – it's an issue many people face. It's just that acne that emerges in different areas of the face may have varying causes.
To help you out, this article offers a concise overview of forehead acne, its primary causes, and how you can deal with them.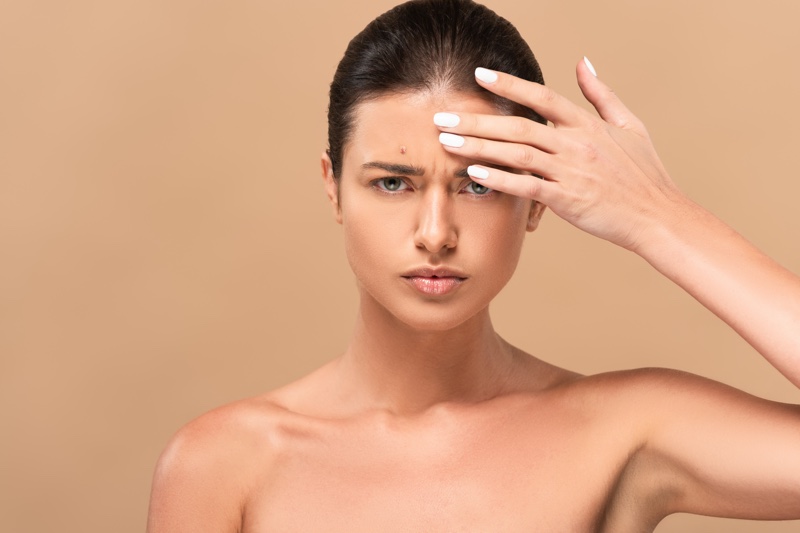 Forehead Acne: An Overview
Forehead acne is one of the most common skin issues both men and women face from puberty to adulthood. Below are some guide questions and answers that can help you understand this type of skin issue better.
What is forehead acne?
Forehead acne refers to red bumps on the skin known as "papules." Some of these bumps – called "pustules" – may also have pus collecting on top of them.
How does forehead acne form?
Acne and pimples develop when the sebaceous glands (tiny glands under the skin) are blocked. These glands produce sebum, the skin's natural oil.
Acne emerges when the skin makes too much sebum, clogging the pores with bacteria and dead skin cells. As a result, the skin becomes inflamed and develops acne.
Is it possible to prevent or treat forehead acne?
Yes. You can prevent acne breakouts by following proper skin hygiene and using gentle skin cleansing products from reputable brands like Clinique UAE.
Top 5 Causes of Acne
The causes of acne primarily revolve around sebum. However, there are five different factors that ultimately lead to its emergence, including:
1. Hormonal changes
During puberty and certain stages of menstruation, your hormones fluctuate to unusual levels. This surge in hormones leads to higher sebum production and, inadvertently, acne breakouts.
Take note that the forehead is just one area where these breakouts emerge. Acne can also appear on the cheeks and other parts of the face and body.
2. Stress
Medical experts are convinced that there's a link between acne breakouts and stress, though the reason behind this remains unclear. Still, you may notice those red bumps on your forehead when you feel most stressed.
3. Face touching
Touching your face too frequently could also lead to acne. As your fingers come in contact with your face, they could be depositing both oil and germs into your skin that dig into your pores and cause breakouts.
4. Hairstyling
Sometimes, how and what you use to style your hair also affects your skin. Even your bangs can be the culprit for your acne-ridden forehead.
Oily hair or not washing your hair often enough could also lead to acne in your forehead since the oil from your scalp may end up clogging your pores.
Certain hair styling products like waxes, gels, and oils have also been linked to a breakout known as "pomade acne." This is because the coconut oil or cocoa butter in the products eventually find their way into the facial area.
5. Makeup or clothing
Notice how you get acne from wearing a headband or a hat or trying out a new makeup brand?
Like hair products, some chemicals in makeup and clothing can also trigger forehead acne, especially in sensitive skin.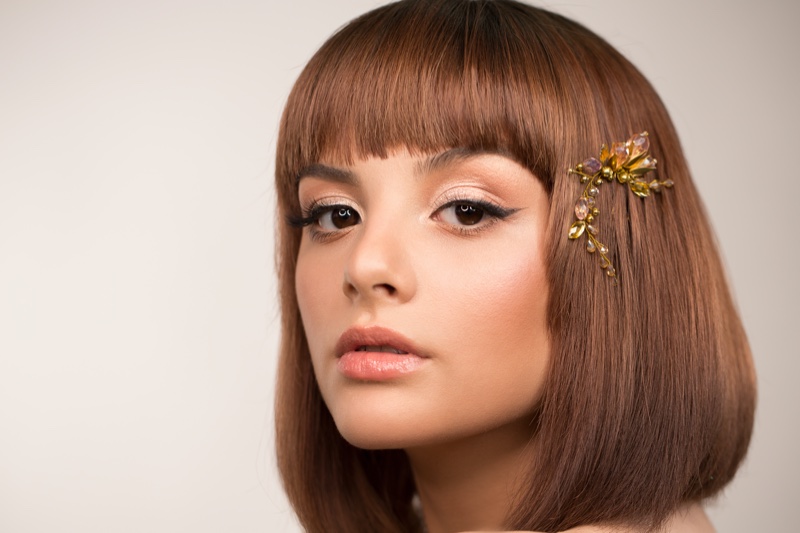 How to Deal With Forehead Acne: 6 Tips
Now that you know the possible triggers behind your forehead acne, it's time to take action to treat it and prevent the issue from recurring.
Below are five tips to help keep your face acne-free:
1. Use topical medication to treat acne.
More severe cases of acne require a visit to the dermatologist who could prescribe topical and oral medication, like:
Benzoyl peroxide – This is a gel product that aids in reducing the acne-causing bacteria on the skin.
Antibiotics and retinoids – These may come in both pill and cream form.
Anti-androgen agent and birth control pills – These are used for acne caused by hormonal changes.
2. Try natural home remedies.
There are plenty of natural remedies that can help alleviate the effects of sebum on your skin, particularly acne breakouts. Here are some examples:
Use a warm compress twice daily on your forehead to promote acne recovery and remove excess oil on the skin.
Apply aloe vera oil directly onto your forehead to clean the area and kill off harmful bacteria.
3. Practice proper face hygiene.
There's no simpler way to prevent acne than washing your face twice daily to keep the germs off your skin. Just remember to rinse off your cleansing products thoroughly with warm water and gently pat your face dry. Avoid scrubbing as it can worsen your acne.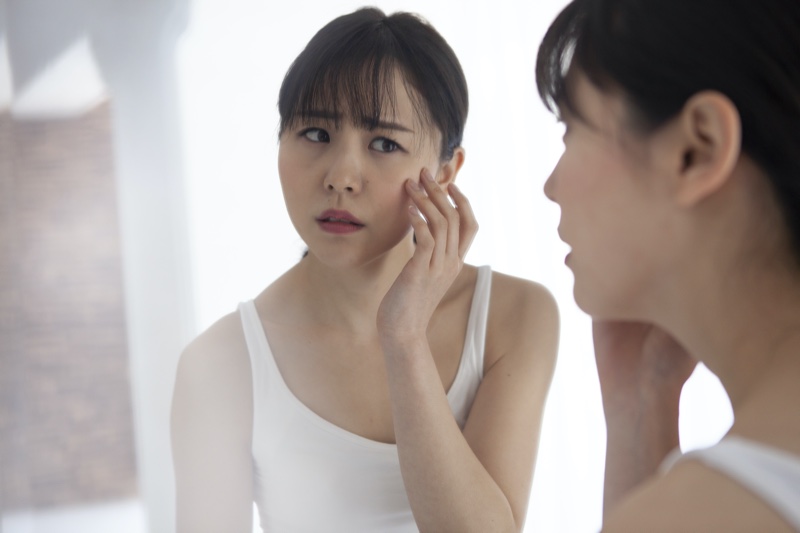 4. Reconsider your hairstyle.
Since bangs are common culprits of forehead acne, it makes sense to avoid having them altogether. This way, you can just tie your long hair back, away from your face to prevent it from depositing oil and acne-causing bacteria into your skin.
However, if you wish to maintain your bangs, hair experts in Dubai suggest putting it off until the warmer, more humid months of the year have passed, as this is also the time when dirt, debris, and oil cling to the air.
If you already have bangs, you can also switch your hairstyle occasionally to give your skin time to breathe. Clip up the hair or use a headband to keep your bangs away from your face.
5. Be mindful of the ingredients in your hair products.
Some ingredients in hair products can also lead to acne, especially if they are in contact with your forehead through your hair.
If you're prone to acne, avoid anything that contains sodium laureth sulfate and coconut oil. Both are commonly found in many hair products, so try to look for more skin-friendly alternatives.
6. Change the way you apply hair products.
Another hairstyling matter you need to reconsider to keep your forehead acne-free is the method of hair product application.
Sprays and spritzes spread hair products well – sometimes too well that they get into your face. To minimize the amount of oil deposited into your skin, try applying the product with your comb instead.
Start by spritzing the product onto a flat comb. Then, comb your hair away from the hairline. Depending on what the product is used for, you also can start from the middle of your hair shaft down to the ends.
As a bonus, this will help distribute the product more evenly into your hair.
Get Rid of Forehead Acne for Good
Getting rid of forehead acne isn't as difficult as you might think.
By considering what causes it, you can treat your skin and even prevent the same issue from recurring.