Only ten seconds into the Cycle 21 "America's Next Top Model" premiere and the theatrics have already started. We're greeted with a dream sequence of Tyra Banks as a little girl recounting past contestants and seasons. Then a little Miss J shows up and they have some banter going on. (What's the tea? – Your weave is sweet.) And it is revealed in true dramatic fashion that he is back as a judge! It definitely was a shock when the judging panel got completely shaken up some seasons ago, so it's great to see a familiar face.
This cycle brings the guys and girls theme back. The boys and girls meet up on a runway where Cory aka "I'm Androgynous" from Cycle 20 shows up to tell them about their challenge. By the way, is this the first time a past contestant has hosted a challenge? What an honor for Cory, if so! They have to walk the runway in an electronic dance music themed show, while wearing body paint and taking a selfie at the end of the catwalk. Because we see that all the time in regular fashion shows, am I right? Right away, we are seeing sparks fly in the romance department backstage at the show. Never mind that this is a competition, you guys. It's all about a love connection. Every guy seems to have their eye on Kari while the girls are going wild for Keith–a Tyson Beckford lookalike.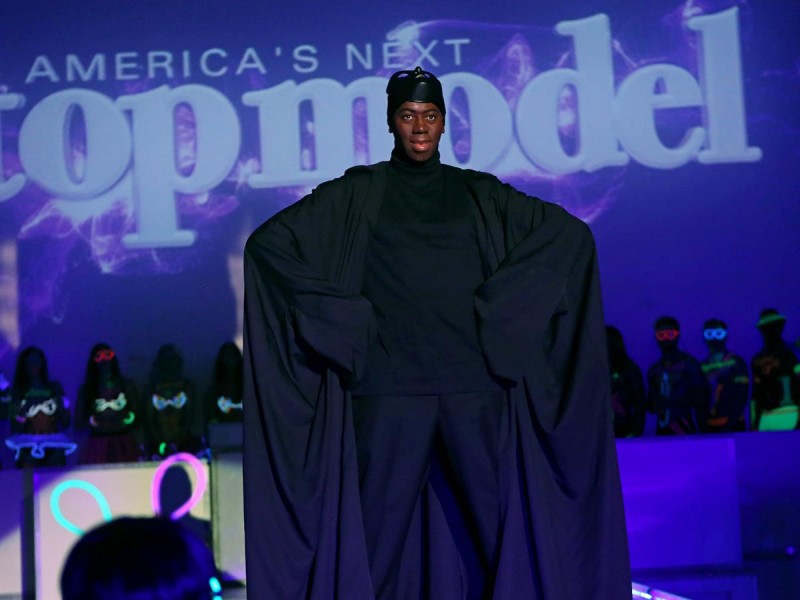 Before the show starts, Tyra descends from the ceiling like some type of acrobat in true Tyra fashion wearing an all black mesh number. It is an entrance that I'm sure no one else will top. Then Miss J hit the catwalk clad in a black mask and robe, and bam! On to the runway show. I can't really discern who had a good or bad walk considering that I was distracted by them taking SELFIES at the end of the catwalk. These challenges will never cease to amaze me. Then, it was revealed that models had to decorate their selfies with this season's sponsor Line.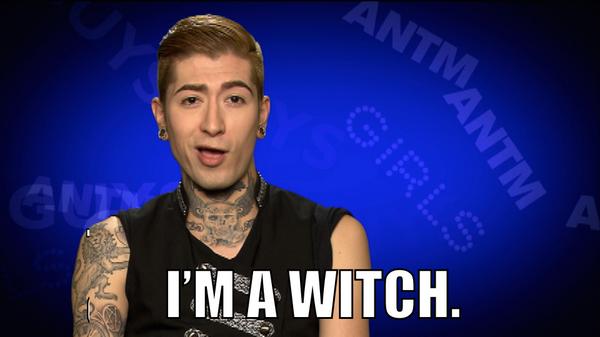 Now, on to the judging room where the judges get to meet the contestants one on one. So far, the boys of this cycle seem to be having all the personality. Sorry, but not sorry. Meet Romeo: a self-described witch, bi-sexual and ex-Catholic. He certainly has the look with his slim build and tattoos. "I'm a witch. I've got my Ouija board and tarot cards. I'm not intimidated." he says about the competition.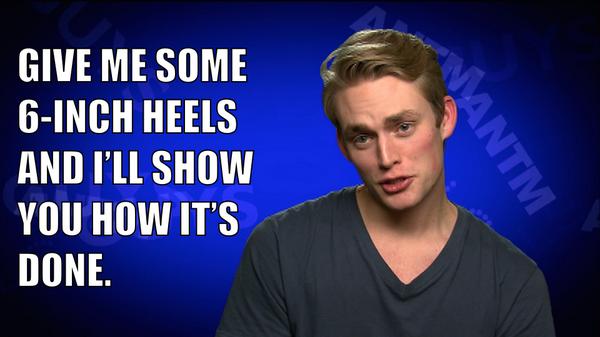 Will is another standout from the guys. He's six foot, six inches, from Texas, gay and blonde. Oh, and did I mention he walked into the judging panel wearing heels. Cory, watch out, he's coming for your throne!
Then you have Adam, who you can tell loves himself way too much. "I do enjoy looking at pictures of myself," he says about the selfie challenge. He is also a frat guy who Kelly says that she would hate if her daughter brought home a guy like him. I'm with you Kelly. This guy is bad news for the ladies.
For the girls, I liked Mirjana. She is from Serbia and seems to have a tough attitude. Not only that, but she also looks to have the look of an actual model. "Marijuana?!? Oh come on now you're playing, Tyra," she says when Tyra mispronounces her name.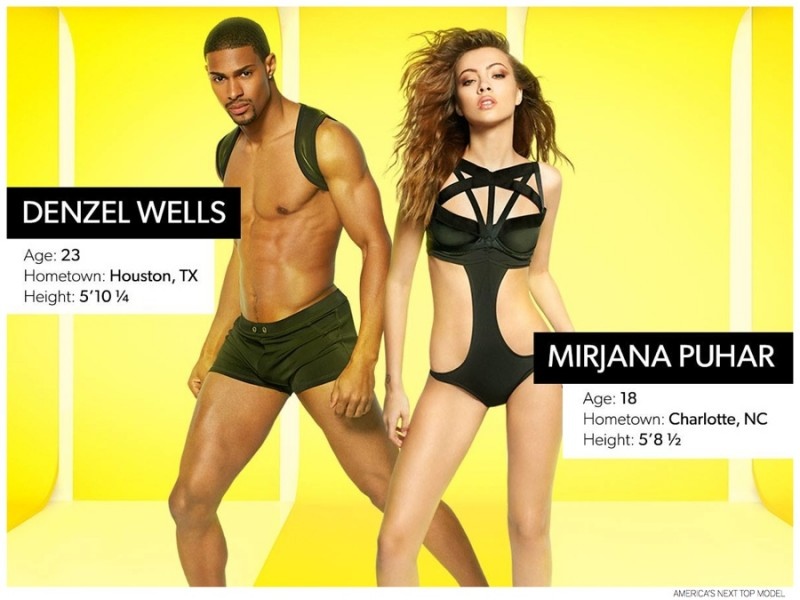 Chantelle's story is also pretty inspiring too. I imagine it must have been hard growing up with a disease like vitiligo and having the courage to be out there in public is really bold. Tyra says she won't be easy on her, so it will be easy to see where it goes.
Then you have Barbie who not only came late to the show, but freaked out when Tyra told her to take her makeup and extensions off. Those extensions were not the look, so she did the girl a favor I will say. And we all know that part of being a great model is rocking the barely-there makeup look.
At the end of the episode, the bomb was dropped that the group of 31 would be cut to 22. And then next week, those 22 will be cut to 14. Spoiler Alert: if you want to see the final 14 click over here. Overall, it was a good if not crazy beginning of the cycle. But where are the photo shoots? Good thing it does not seem that far off as the preview for next week showed Yu Tsai take on his creative director role.
What did you think about the cycle 21 premiere? Which contestants stood out to you and are you happy with Miss J's return?