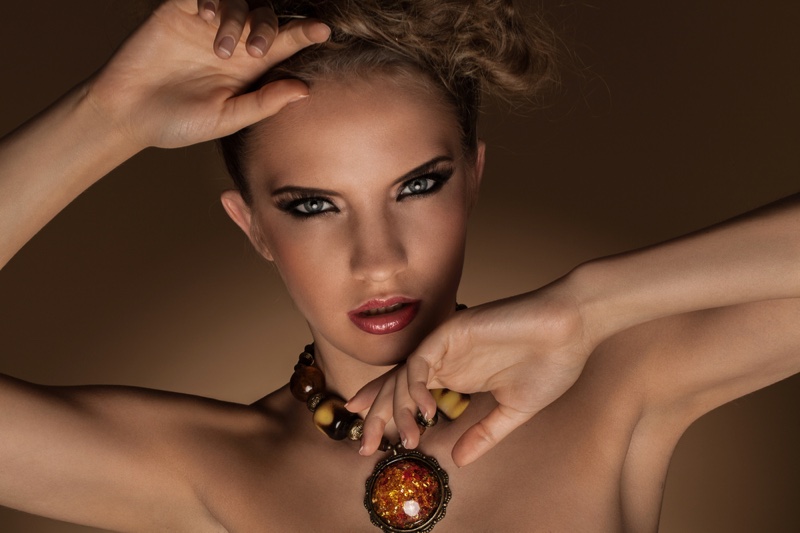 Amber is such a gentle and beautiful gem. It's brown and bright orange hues make it look stunning in any setting. Many mothers, especially those purchasing to ease the babies teething problems, wonder whether amber necklaces are allowed to get wet. Well, there are many ways you can get your amber jewelry wet either mistakenly or when cleaning it.
For one, you should clean the amber necklace often as dirt may build-up due to frequent wear. The amber cleaning helps to maintain texture and shining effect and also to allow succinic acid to continue with having a healing effect to your toddler. Let's see how you can get your amber wet.
Can Amber Teething Necklace Be Worn In The Bath?
Never panic when you mistakenly get your amber teething necklace in the bathing water. Frequently cleaning amber is allowed is not harmful, but how you do, it matters. Normally, the baby bathing water is lukewarm, which is acceptable for cleaning the amber necklace as well. The only downside is doing it every time you want to bath your baby. It may break down the stringing material that holds the beads together.
Amber necklace should never be worn for long hours, and it should be removed before you bathe your baby. In case you decide to bathe your baby wearing amber necklace, make sure you do not prolong the process as it may weaken its effect. Most of the time, both pool and bathing water contains chlorine plus other chemicals that may interfere with amber effectiveness to your baby teething problem.
The best approach is less exposure to water, which may not negatively affect the amber necklace. But if your amber gets wet by mistake, there is no need to be paranoid. Few mistakes here and there cannot make the necklace ineffective, though. However, in the future, you should be cautious about removing it before going to the pool, mainly when you are aware it may take longer.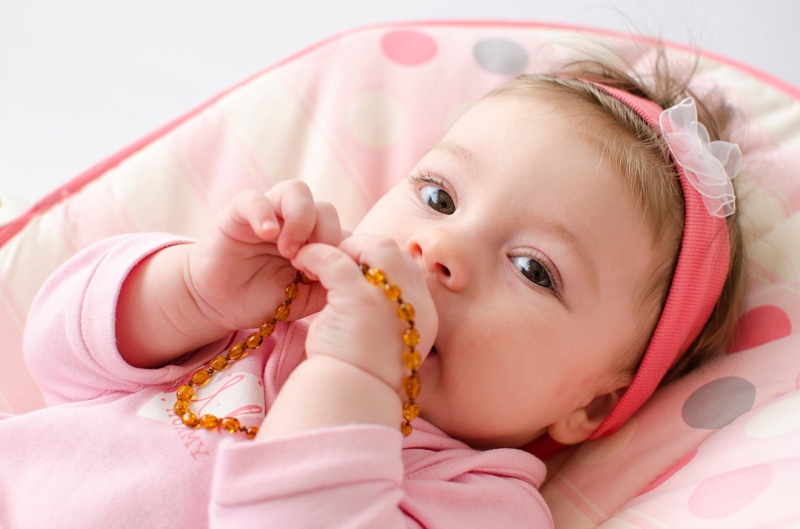 How to take care of Amber Necklace
Amber necklace is designed to give you services for long. Therefore with proper care, you can use it to other babies you may have in the future. It is believed that an amber necklace can last for two or more decades, but you must include proper maintenance to hamper or prevent losing its effectiveness early. Below are some of the approaches you can employ to add your amber necklace lifespan.
Tend to dry the amber jewelry in the sun to allow the beads to absorb energy as they radiate and look better in sunlight. Note that this should not be done for long hours as strong sun rays may wear the beads and destroy their effectiveness.
When you want to clean your amber necklace, do it with warm water using a soft cloth, and after that, apply olive oil on the beads to keep it new and shiny.
For adults who wear amber, before you use lotion, deodorants, and spray on your body, remove the amber jewelry to prevent it from coming into contact with chemicals. Amber necklace is designed with natural beads which are susceptible to damage by chemicals. Those chemicals lessen your necklace effectiveness with time, and before you know it, you have ordinary jewelry with no succinic acid effect anymore.
The ways in which you care for your amber necklace matters a lot in ensuring your baby get effective pain relief. The question about wetting the necklace should be done professionally, especially cleaning the jewelry itself. The area you should avoid getting it wet is through the pool or bath water; as we have seen, it lessens the strength of the thread.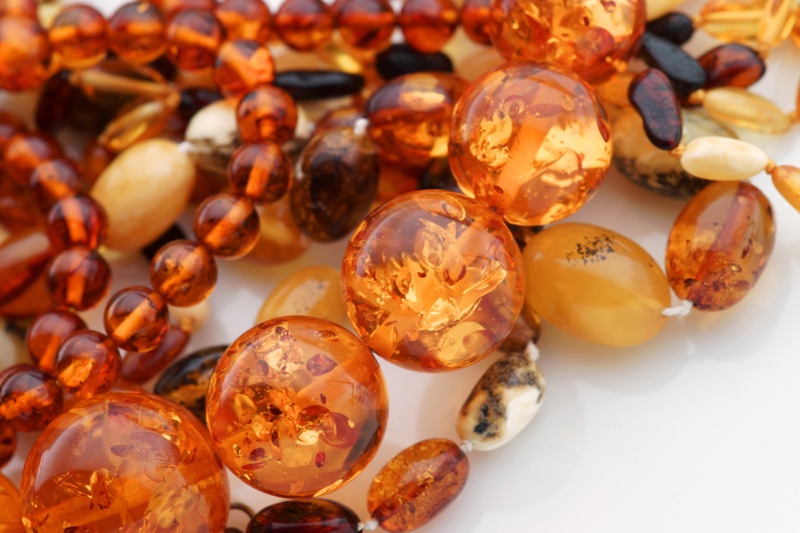 Why Pool and Bath Water is not suitable for Amber Jewelry
For one, you are aware swimming pool water contains chemicals for maintenance purposes, and that's what endangers the lifespan of your necklace. Few mistakes may not damage the jewelry immediately, but constant exposure to my complete lender it useless. On the other hand, bathwater contains soap or other washing chemicals, and just like the swimming pool, it's not advisable to dip your baby often with the necklace on.
Chemicals destroy your necklace string, beads outlook, and diminish the succinic effectiveness on your baby. Follow the right procedure of washing it as you cannot avoid the cleaning part to keep it fresh for your baby. It builds up residue from sweat, lotion, and the dead skin cells. The dirt is what you are required to clean with care, and it cannot destroy it since that is not a daily thing, but only when necessary.
Other Things to Avoid Exposing Your Amber Jewelry
Amber jewelry is an enemy to extreme temperatures. Taking your amber to areas that are too hot or cold may easily damage the stone.
Working around the kitchen while wearing an amber necklace, bracelet, or ring may get your beautiful treasure through chemicals found in the kitchen when cooking. A combination of moisture through various delicacies you are preparing may wear out your beads slowly.
Amber is not an average stone that you may compare to other stable stones. This one is developed inside the earth, and some environments and temperatures may not keep it in good shape. By the look, it may appear solid and firm, but before it changes to the current shape, you have to know it was in a liquid form. The amber jewelry material is soft and brittle, and any contact with chemicals creates wear and tear on its cord and clasp.
When you follow the maintenance steps above, you can ensure your amber jewelry in good condition.
How to Store Your Amber Jewelry
The storage process is as necessary as the cleaning one. And the right way to keep your jewelry is by wrapping it with a soft cloth. You should avoid your amber jewelry coming into contact with other metal jewelry as they darken with time due to oxidation. The storage area should also not contain any heat or fluorescent lights.
Storing your amber away from other items prevents it from getting scratches, which may as well scratch you when wearing it.
Conclusion
How you care for your amber determines its lifespan to serve you. To avoid many replacements whenever your jewelry lacks the effectiveness to deal with teething on your baby, ensure all the necessary protection is given to the amber jewelry.