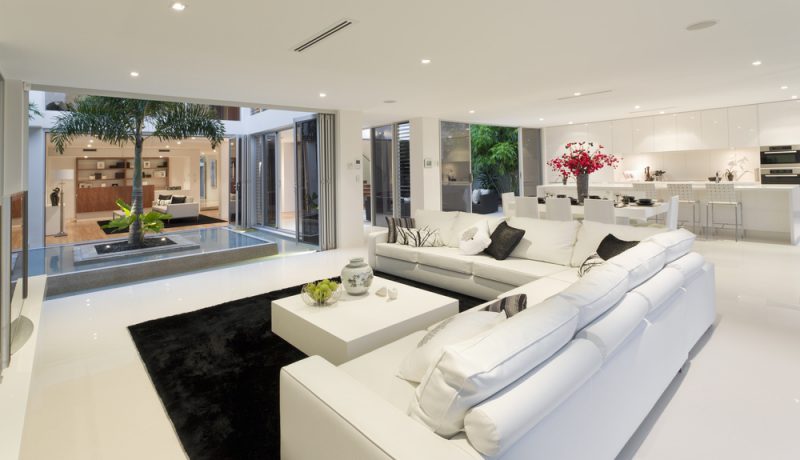 Celebrities have long inspired youth and even adults. Whether it is choosing an outfit, shoes, consumer goods, or even home interior, there are many ways celebrities become a part of your decision making. And–what could be more exciting than sharing the thought of living in a home that mimics the one from your favorite celebrity. You have all the scope of working out an architectural masterpiece that not only provides you comfort, privacy, and luxury but also brings you way closer to the artist you have been following since your childhood days.
Whether it is–how to choose the right furniture, picking the right color-scheme, rearranging the furniture, or exploring how to decorate living room walls, there's the chance that your favorite celebrity has all the answers to help you reinvent the grand home of your dreams. 
Now, if you're all set for a celebrity-inspired home or planning to renovate your house or a luxury condo like those in Southport Square, to live like a star, we have you covered. Here's a list of celebrities who have made a buzz with their fascinating home design. Let's take a look:
https://www.instagram.com/p/B9-kteBHm-E/
Hidden Hill: Kylie Jenner
Kylie Jenner's Hidden Hill home inspires with its fresh, fun, and glittery atmosphere. Jenner's dream home the perfect balance of sparkling and sumptuousness colors that has all the right elements to stir up envy. The interior of Kylie's ultimate home is designed by Martin Lawrence Bullard. It features highlights such as a gold-leaf ceiling in the dining room, a Marylin Monroe painting along the stairs, and vintage-inspired Lucite furniture by Charles Hollis Jones. Beverly Hills House: Winona Ryder
The revamped Beverly Hills house of Winona Ryder is equally beautiful as she is. Winona's home blends creativity, contemporary design, and a splendid charm designed by Kevin Halley, who worked closely to incorporate every aspect to bring on a Mediterranean touch. If you are an art lover who wants a break from modern architectural noise, the celebrity home interior of Winona Ryder would lend you a sophisticated, calm, and relaxed feel.
Ellen DeGeneres
Ellen DeGeneres, with her wife Portia De Rossi, transformed their Beverly Hills home interior into an ultra magnificent modern space that is lavish yet whimsical. The interior of the house is playfully comprised of artwork, paintings, African masks, and shelves filled with sneakers and heels. The interior is entirely eclectic and mingles ideas from a diverse range of things, keeping it formal and uniform.
Californian Home: Jennifer Aniston
The Californian home of Jennifer Aniston is another one on our list of celebrity homes to inspire. Aniston believes that comfort is more important than beauty and luxury. She wanted the interior to be warm and inviting; this is something glamour cannot do. The interior design came together with the talents of a handful of designers who gave the decor a deft touch with abstract paintings, Japanese sculptures, handpainted wallpaper, a Polar Bear sofa by Jean Royère, armchairs by Jacques Adnet, and a daybed by Mies van der Rohe to create a marvelous experience at every turn of the house.
1950s Home: Mandy Moore
Mandy Moore, the American songwriter, and actress realized her dream of a stunning Mediterranean style home. Moore's house is like taking a glimpse at a 1950s classic home interior with modern touches. It is enriched by a mesmerizing view of the San Gabriel mountains and valley. The vibe of the interior leaves no chance of surprising anyone with its mid-century aesthetic that also includes modern, fresh, and organic concepts to keep it timeless. There are furniture, terrazzo floors, and beautiful architectural elements for everyone to fall in love with.
Florida Home: Elle Macpherson
Elle Macpherson makes a statement with her light-filled Florida home, a trove of artwork, and gorgeous furniture. Whether it is a turquoise painted wall that fills the space with the spirits of energy or beautiful lamps that hang over the ceiling, there are traces of Elle's personalized touch everywhere. And, if you are a fan of Elle, you are going to cherish the entire decor, furniture, and lighting around the home.
Maui Hawaii House: Oprah Winfrey
Oprah Winfrey, one of the wealthiest celebrities, inspires with her Maui mansion. The home is almost a farmhouse with a personal touch of her own. She worked with the interior designer herself to finish her home with elements that truly reflect her personality. Being a fan of her, you don't want to miss out on the interior that incorporates a beautiful view of nature mirrored outdoors. There are beautiful flowers around the garden and vases that find a place in almost every corner. The color scheme is light and gentle to keep the area cozy and relaxing. The French doors, windows, and the porch give it a distinct touch to relish the fantastic view around.
West Village Townhouse: Liv Tyler
American songwriter, actress, and producer Liv Tyler is next on the list of our celebrity-inspired home interiors. Tyler worked with a group of interior designers to shape the beauty of her West Village townhouse to its original spirit. With her devotion to little things, she reincarnated the home to match her sense of taste and style. Whether it is a Venetian-style mirror or mesmerizing photographs of flowers, everything is profoundly inspiring and satisfying. The all-white interior and oak wood floor adds a distinct appeal to it.
Los Angeles Home – Jessica Alba
Jessica Alba's Los Angeles home is an ultra showstopper that allows you to peek into its meticulously organized and well-designed luxurious home interiors. It has a delicate balance of natural and organic materials, fabrics, and reclaimed wood. Alba's home is well-planned to keep it open and still functional for a family with kids. Whether it is a French table with Swedish chairs or kitchen cabinets painted with a unique style, everything comes together to create a vibe that is very specific to a celebrity's taste.
It is Time to Build a Ravishing Home
A home is a significant and essential part of everyone's life. Whether you choose to live with a minimalist one or one that outpours heightened luxury and opulence, the best things are those that emotionally and visually connect with you. With all these fantastic celebrity homes, there is no doubt you will have endless ideas when it comes to envisioning a home that is either rustic or elegantly sophisticated.