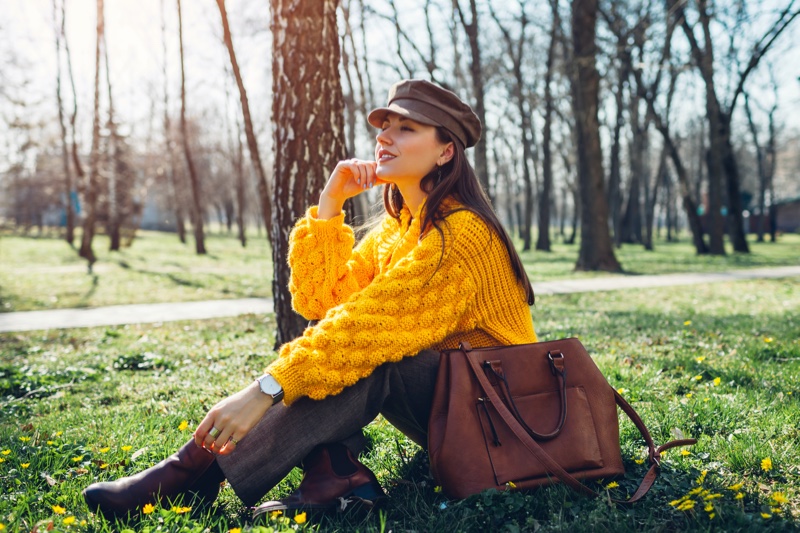 Once the long summer days are over, and the temperatures start to dip seemingly overnight, you might find it challenging to put together a set of fashionable yet warm outfits that will be perfect for work, running errands, and hanging out with friends. After all, you need to find an ideal balance between the current trends and pieces of clothing that will help you avoid catching a cold. 
For these reasons, you'll probably be pleased to know that those chunky sweaters are still in this fall. You can combine them with boots and baggy jeans for an outfit that fits almost every occasion. Plaid skirts, classic trench coats, and leather blazers continue to rock the runways, so it may be a good idea to ensure you have them in your wardrobe. Knit dresses are all the rage, so don't worry about not having anything to replace your beloved summer dresses!
The best thing is that you're likely to find most of these pieces already lying in your closet. If not, visit your local thrift stores or shop in online outlets. Read on to learn more about some of the trendiest outfits you can wear this fall to stay warm and still look elegant.
Chunky Sweater & High Waisted Trousers 
This combination is perfect for you if you like comfortable yet stylish looks. It will look fabulous no matter where you decide to wear it: to the office, out shopping with friends, or meeting your relatives for lunch on a Sunday afternoon.
You can simply choose a pair of tailored pants in a darker shade, such as black, dark caramel, or olive, and add a chunky knitted sweater on top. Then, accessorize with a pair of cat eye sunglasses in a vivid color to add some spice to the overall basic look. A pair of boots or tall heels will complete the picture and make you look fabulous.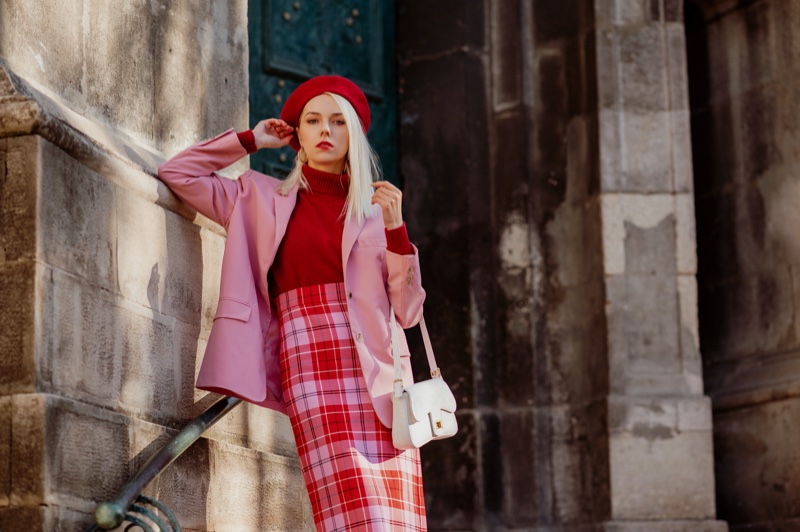 Plaid Skirt & Blazer 
This set is perfect if you want to look chic and sophisticated while staying warm. A plaid skirt will look great with a pair of high heels or knee-high boots, while a blazer will give you an air of sophistication that will make you feel confident and in charge.
Throw on your favorite pair of earrings and accessorize with a small handbag to complete the look. If you worry about windy weather or chilly mornings, consider investing in a long shawl that you can wrap around your neck and shoulders for extra warmth.
Knit Dress & Faux Leather Jacket
A knit or V-neck dress is a great way to keep warm in the fall without looking frumpy. Add a pair of knee-high boots or comfy heels to finish the look. Throw a faux leather jacket on top and accessorize with a long necklace and a big shopper bag to add some spice to your appearance.
This fall, colors such as ivory and a peachy beige, as well as bold colors like neon orange, emerald green, and golden yellow, will be all the rage, so try to find a dress in one of these shades to look as if you just walked off the runway.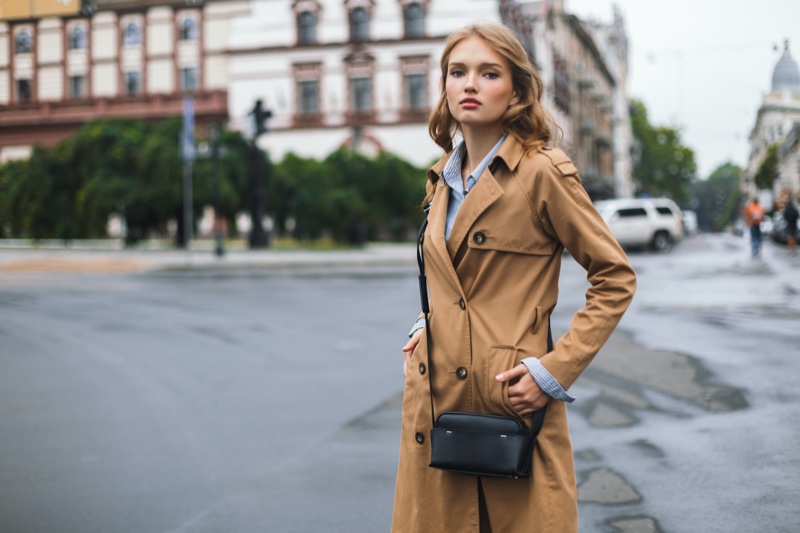 Trench Coat, Basics & A Faux Leather Bag 
Nothing says classic elegance like a trench coat. This piece is always the go-to choice for fall among fashionistas, so don't miss out on adding one to your wardrobe. You can wear it over almost any outfit, from leggings, tights, and jeans to skirts and dresses, but this year, consider wearing it with a basic t-shirt and a pair of mom jeans.
The trench coat will keep you warm and protect you from the wind or rain, making it a staple piece of clothing that every woman should have in her closet. Wear it with simple gold accessories and complete the look with a statement faux and environmentally friendly leather bag.
Long Denim Skirt With a Button Down Shirt 
If you prefer skirts to pants, you already know that a classic denim skirt is a timeless piece of clothing that will never go out of style. You can choose any color, but keep in mind that black and navy blue are incredibly trendy this year.
As for the top, a white button-down shirt will add a touch of class to your overall look. You can experiment with tucking it in just partially to add an interesting twist to your outfit. A pair of ankle boots or sneakers will complete the picture and make you look amazing.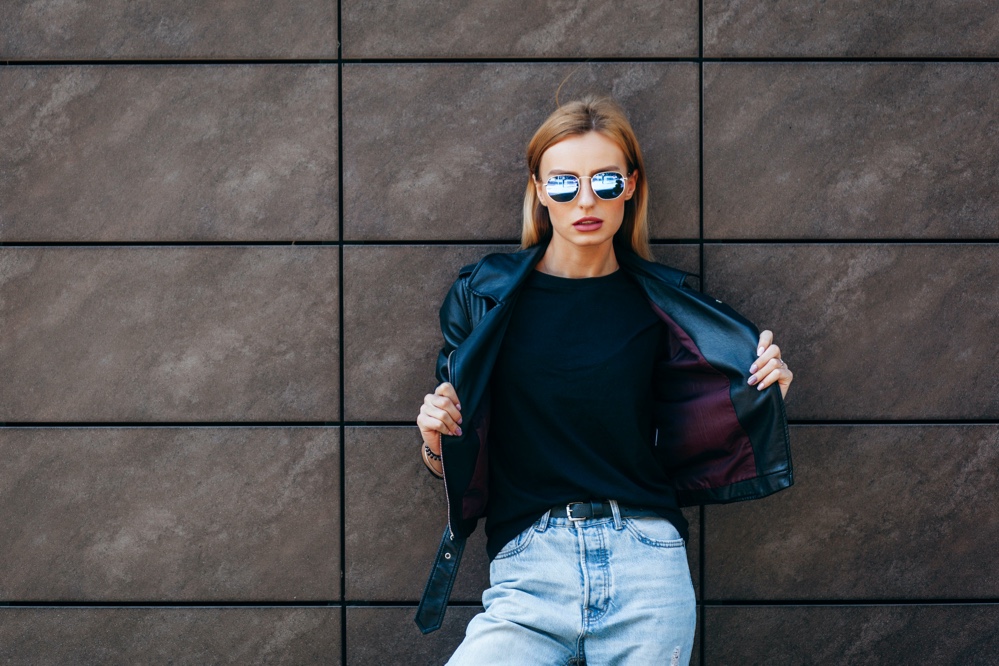 Bomber Jacket & Distressed Jeans 
Another classic combination perfect for autumn is a bomber jacket and distressed jeans. The bomber jacket will lend a bit of edge to your overall look, while the jeans will ensure that you'll be warm no matter where you go.
As for the top, you can feel free to wear a simple basic t-shirt underneath. A pair of sneakers or high heel ankle boots will complete the picture.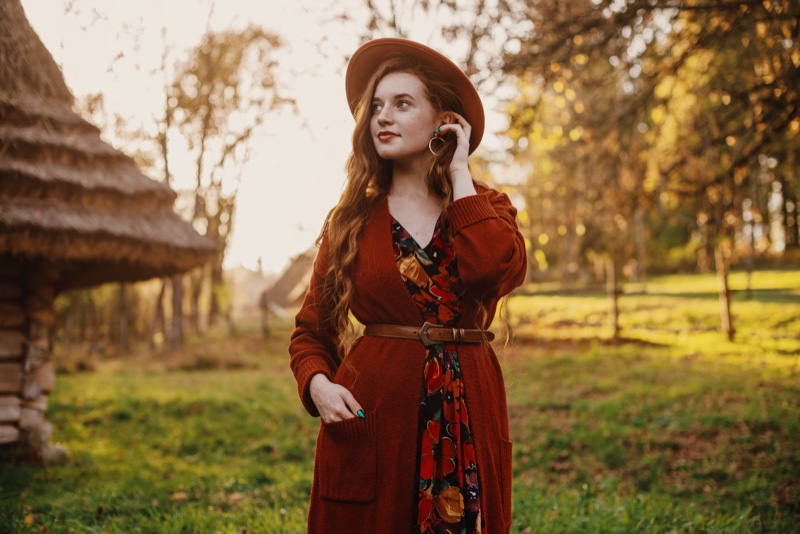 A-Line Dresses & Cardigan 
If you like classic and elegant dresses but find it hard to style them, try this combination. Wear an A-line dress of your choice but consider going for darker colors, such as dark navy, burgundy, or caramel and add a cozy cardigan in a light color such as beige or white on top.
Add a pair of ankle boots and finish off with your favorite jewelry to make the look complete.
In Conclusion
As you can see, fall outfits don't have to be boring. Most of the ideas you've just read about are simple and easy to put together, so there's no excuse not to give them a try. There are also many affordable clothes that look make you look expensive, so don't hesitate to visit your local thrift stores in order to save some money on your new fall outfits.
Thanks to chunky sweaters, a-line skirts, and sweater dresses, you can easily come up with several stylish looks. The only thing left for you to do is try them out!