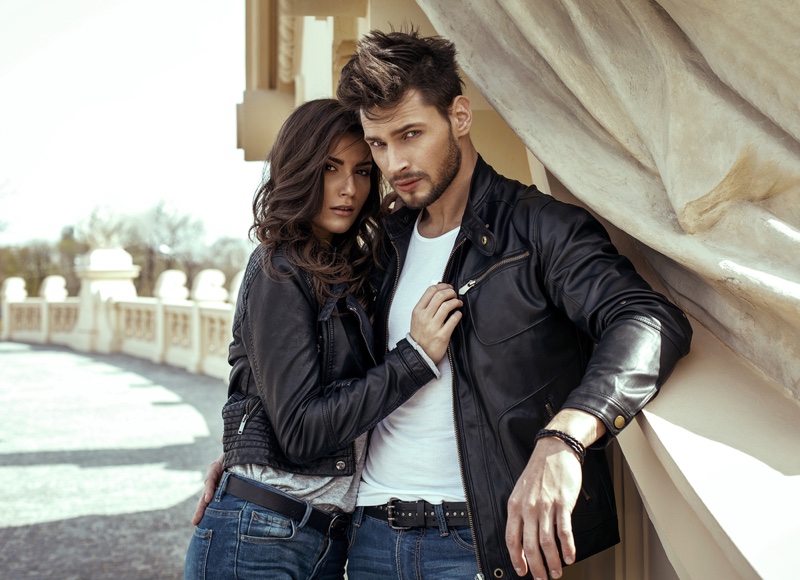 We're well into 2020 by now, but some men are still dressing like it's 2010—or worse, like it's 1990.
It's hard to blame them. Guys usually come into their own, style-wise, during their teenage years. A lot of them don't progress past it through no fault of their own. They tend to develop a utilitarian view of clothes and are satisfied with the ones on their backs as long as they aren't called out for them. Being fashionable simply isn't a priority.
However, dressing well can be an advantage in many situations. It can improve your confidence, help you land a job, or make you look more capable and authoritative. Update your look and look your best by leaving these style sins in the past where they belong:
Wearing Oversized Clothing
Back in the '90s, hip-hop fashion was all the rage. The biggest names in the game were wearing baggy jeans, oversized flannels, and huge t-shirts—people were drowning in an overabundance of fabric. Trousers were so long that they'd trail along the floor, and because everyone stepped on them eventually, frayed hems became a prevalent sight. It had been acceptable at one point to wear pants so low, they were 3/4s of the way down a man's rump.
Hilariously, some guys are still dressing like Eminem when The Slim Shady LP was released. That happened in 1999, by the way. For your own good, take the time to declutter. Throw out your XXXL basketball jerseys, your bucket hats, as well as any pairs of jeans that sit below your waist. Start buying clothes that actually fit your body. If you don't know what your size is, rectify that immediately. If you're stumped about where to start, friendly sales associates at your favorite clothing stores will be more than happy to assist you.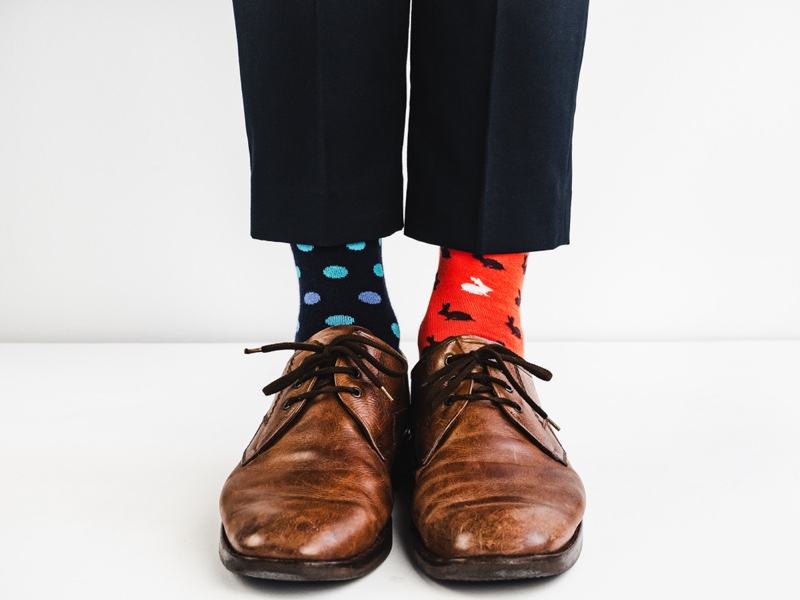 Wearing the Wrong Socks with Dress Shoes
To most men, a sock is a sock. You wear them on your feet to absorb sweat and protect them from blisters when you wear shoes.
If you've been buying them in bulk for most of your life, chances are you may not even be aware that there are different types of socks. The ones available in packs of 6 or 12 are usually gym socks. Gym or athletic socks are made with moisture-wicking fabrics to pull sweat away from your skin while you work out. The fabric is usually thicker, making them unsuitable for use with dress shoes that tend to fit snugly.
The best dress socks for men should be as thin as possible to accommodate the footwear. However, that doesn't mean that you have to compromise on quality or comfort. Go for socks made with a blend of natural and synthetic materials. These offer the best of both worlds, keeping your foot dry without adding bulk. It should also be long enough to come midway up the calf.
Not Getting Your Clothes Altered
Nowadays, fit is everything. If the fit is right, anything you wear instantly looks better on you. However, most ready-to-wear pieces don't always fit perfectly. These garments are manufactured according to specific sizing standards. There can still be issues concerning how they look and feel on your body, even if you're getting them in your size.
You don't have to leave something at the store if it doesn't fit as well as you expected. However, there's also no need to wear them as is, either. Professional alterations done by a skilled tailor can do wonders for those pieces, as well as any ill-fitting garments you still have in your wardrobe. As long as an article of clothing has enough fabric for an alteration, almost everything from jackets to pants to shirts can be tailored to fit you better.
Wearing Old, Worn Clothes
A lot of men feel hesitant about throwing anything out if they think they can still get some use out of an item. It's why most of them don't view hoarding as a problem and don't purge their closets as regularly as women do.
Keeping old clothes around for sentimental value is one thing; wearing them is another matter entirely. No one is saying that you should toss out your prized high school football jersey. Men can and should be allowed to feel a deep connection to their material belongings in the same way that women do. It's just that maybe you shouldn't wear that tattered Camp Little Rock '95 shirt out anymore. Yes, "distressed" is a trend on the rise, but there's also merit in not looking like you're wearing trash. Any items that have holes or rips in them that don't look intentional are best off relegated to the recycling bin.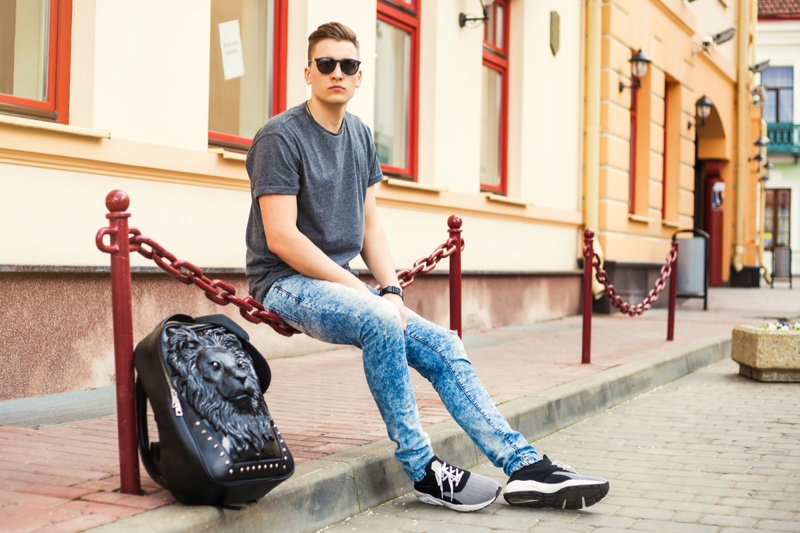 Wearing Sneakers Everywhere
Men love sneakers. Some guys are obsessed with them, ready to stand in line for hours to get their hands on a hype shoe. It's easy to see why, too: in sneakerhead circles, rare and exclusive kicks have value, with incredible designs comparable to fine art. Wearing them can make a man feel cooler, fresher—more elevated. Sneakers are also versatile, lightweight, and exceedingly comfortable, making them a logical choice as an everyday shoe.
However, sneakers are hardly the best choice for every occasion. Even the most valuable pair of Air Jordans or Yeezys will look comical on a man after a certain age. Learn how to diversify your footwear: in addition to dress shoes for formal occasions, you may also want to invest in casual walking shoes and a pair of sturdy boots. 
It's never too late to refresh your look, regardless of your age. Don't let these fashion faux pas turn you into a walking throwback, and don't hesitate to ask around if you need help in updating your wardrobe.