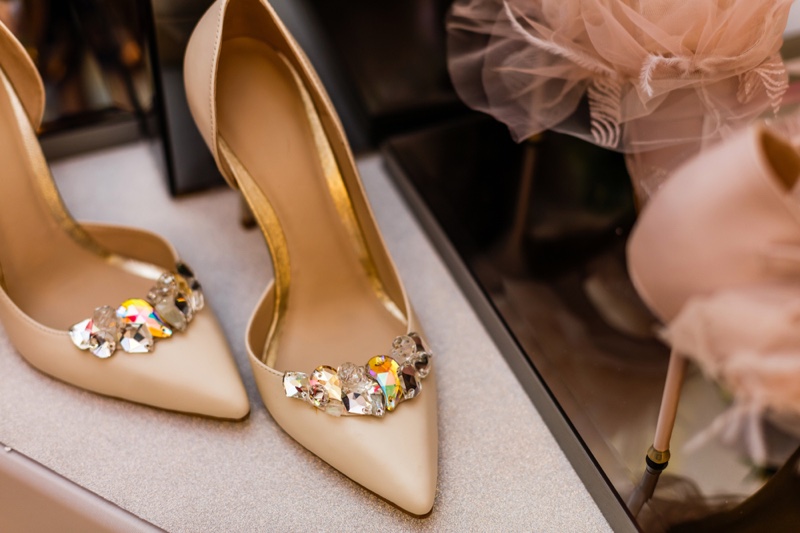 As wedding season is around the corner, most women are completing their wardrobe checklist. From dresses, jewelry clutches to shoes – they want nothing but perfection. Amongst everything, wedding footwear seems like the biggest challenge. First, you would be on your feet the entire day which means, comfort should be your utmost priority.
At the same time, you have to ensure that comfort aligns with style. The heel's height, color, fabric, and embellishments should match the outfit and enhance its aesthetic appeal. Likewise, you have to pick versatile silhouettes that you can wear with multiple dresses. After all, purchasing a $900 pair of heels for every outfit might seem costly to some people. If you still can't decide, have a look below.
Here we are throwing light on 11 killer heels that you can rock this wedding season.
1. Jewel Embellished Heels
Whether you have picked a simple or a glamorous dress – add some glitz with jewel-embellished heels. They come with a single strap encrusted with jewels, lighting up the entire dress. You can pair them with a flirty short dress or add a hint of glitz beneath the floor-length gown. However, avoid getting these heels from local brands because quality and comfort come first. Perhaps, you can look up designer wedding shoes and find a good pair of heels for the upcoming wedding season.
2. Kitten Heels
The fashion industry is welcoming trends from the late 80s, because of which, the kitten heels are also back in style. These look like traditional coat shoes but with a much shorter heel to ensure comfort. Hence, if you aren't willing to wear pencil heels, kitten heels will be the best choice. You can grab these in pastel or neutral colors, take advantage of their versatility, and flaunt them with any dress.
3. Ankle Strap Pumps
Most women lookout for something unique and extraordinary while choosing footwear. Recently, ankle strap pumps have become the talk of the town. It is an unconventional pair of heels with a sleek strap design and front without any embellishments. You can pair these shoes with a minimalistic dress of any color, preferably above the ankles. Additionally, you can wear these heels to formal meetings, dinner dates, and office brunches.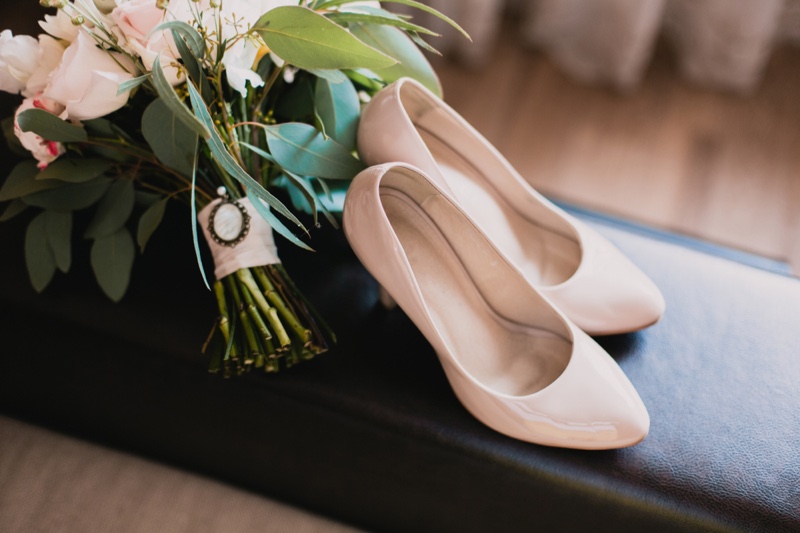 4. Classic White Leather Pumps
Believe it or not, white leather pumps are the perfect fit for every occasion. From their height, silhouette, to leather – everything about the white pumps screams timeless. In addition, the pumps are super versatile which means, you can wear them again with any outfit. If you think plain white pumps would look too simple for weddings, add a hint of glamour with some embellishments. You can get your hands on bejeweled pumps with a crystal buckle on the front.
5. Square Slingbacks
Lately, the square slingbacks have come into the limelight. Haven't you spotted celebs and royals flaunting these heels at weddings? These square slingbacks feature ruching at the front, driving the balance between classic and trendy. Thus, you can pair these heels with a lacey or satin dress and make eyes turn at you. Besides, these square slingbacks don't cost a fortune because even designers offer these at pretty affordable prices.
6. Block Heel Sandals
Do you find it difficult to walk in heels? Well, many women do and if you are one of them, get yourself block heels. In addition to maintaining a solid grip, block heels are super comfortable. They come as a wardrobe staple, allowing you to flaunt them with any dress. However, you have to pick the colors wisely to ensure they go with different outfits. Maybe, you can opt for brown or white block heel sandals since they are elegant yet classy.
7. Ribbon Pumps
Most women live for a lace-up heel moment. After all, ribbon ties on ankles straight from the shoes look flawlessly beautiful. So, why not wear these to your friend's wedding? You can get your hands on a midi-length dress to flaunt the ribbon lace and make some style statements. If you don't want to tie the ribbon to your knees, opt for pumps with smaller ribbons. Also, make sure the height of the heels isn't long because you might feel uncomfortable.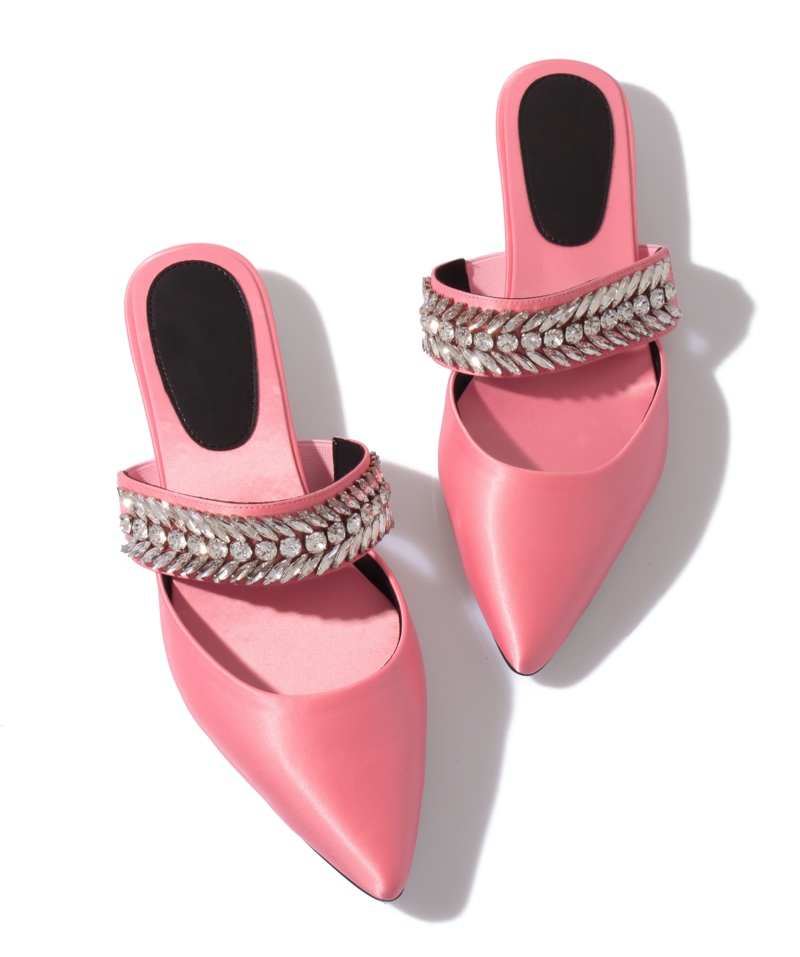 8. Satin Twist Mules
The satin twist mules are famous for their comfort and elegance. You can walk down the aisle or twirl around the dance floor wearing these shoes. The satin twist helps in maintaining a grip on the ground while comforting your foot. Instead of pencil heels, opt for mules in the satin design since it looks aesthetically pleasing. Also, pair them with a slinky slip dress, a fancy gown, or anything that suits your style and personality.
9. Ivory Lace Pumps
Often, women want a pair of shoes that complement their dress in the best possible way. In this case, we would recommend ivory lace pumps. They have a hand-sewn illusion mesh and glamorous lace details on the front. Moreover, the pumps have a ribbon instead of straps to add a formal touch, perfect for weddings. Mostly, these are available in white color, but you can get them customized according to your dress's color.
10. Drapey Leather Pumps
Have you come across any knotted pumps? For women looking for a mixture of modern and antique, these shoes could be a perfect choice. It comes with a 3-inch heel, small enough to walk the entire day comfortably. Similarly, the knot of leather at the front provides an extra layer of comfort to the feet. In short, this pair of pumps promises style with ease, letting you enjoy the wedding festivities in full swing.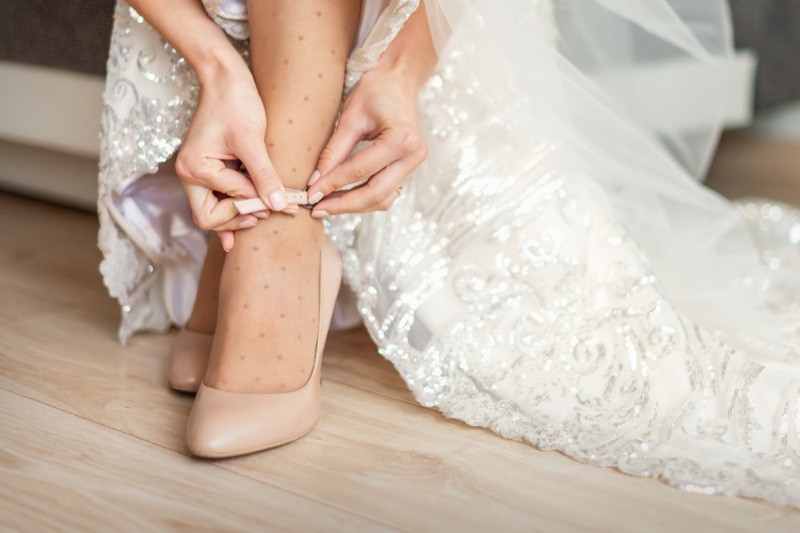 11. Lace-Up Sandals
A strappy lace-up sandal in a neutral tone is timeless. You can wear it to the rehearsal wedding dinners, the ceremony, bridal shower, and reception. Usually, the lace isn't long enough to make your legs uncomfortable but relatively short to provide enough grip. Moreover, the sleek design of lace in the front has minimal skin coverage, letting you flaunt your nail art. So, if you want something simple and elegant, don't mind getting your hands on these sandals.
Final Words
Undoubtedly, there are endless styles of wedding shoes available in the market. Many women choose to wear embellished sandals, whereas others opt for classic pumps. Therefore, you have to select footwear that aligns with your personality and style. For added comfort and support, stick to block heels and kitten heels. Otherwise, you can wear lace-up or ankle strap pumps to make stunning style statements.