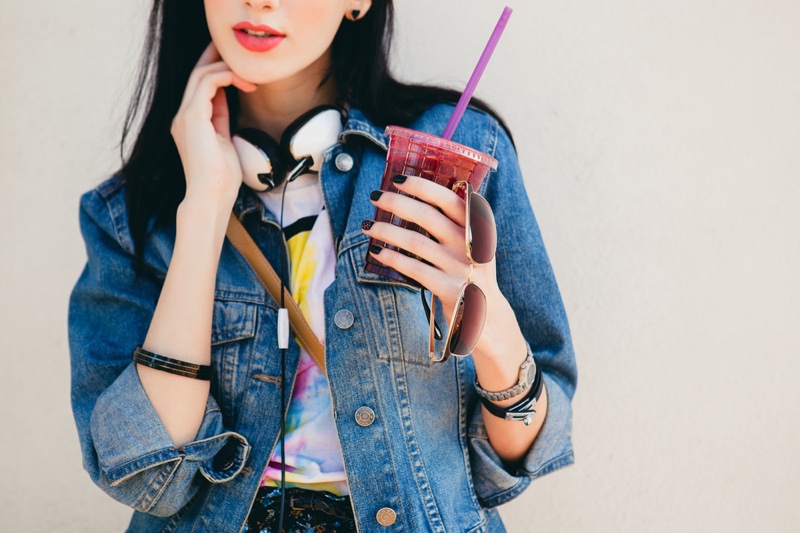 When it comes to clothing, denim jackets are a wardrobe staple for everyone out there. Be it a man or a woman, you can rock any look you want by styling a denim jacket in a funky way. The good thing about denim is that it's never out of fashion. Whether it is a jacket or a denim shirt, you can always pull off denim without any extra effort. Not just this, we also have denim dresses and denim kurta to make your look a little more bohemian.
Has the lazy bug bitten you before going out? For all the times when you don't feel like scanning through the wardrobe before going out, pair a plain t-shirt with jeans and a denim jacket. Trust this advice if you want to look great while also being in your comfort zone. The look always works! To give you some relief, this outfit won't cost you a bomb if you check the offerings during Myntra Sale before finalizing on one.
Whether it's a cropped jacket or a baggy one, you're going to look dope in these jackets whenever you sport this look. Plus, it requires the least amount of maintenance! You can also liven up a plain denim jacket with fashion enamel pins.
10 Styles To Pull Off Denim Jackets
1. Denim Jacket and White Dress
If you want to keep it low-key, pair your denim jacket with a white dress. You can pick any light-colored simple dress to go with the jacket. This trendy look will certainly fetch you compliments in any gathering. It's comfortable, it's decent, and it's definitely going to get the eyeballs rolling.
You can complement your flowy dress and the denim jacket with classy ankle-length boots. The footwear will add the x-factor to your look of the day and bring in just the right amount of glam that you needed. If boots aren't your pick, you can always ditch them with a comfortable pair of shoes or flats.
2. Denim Jacket and Crop Top
To be honest, pairing a denim jacket with a crop top is certainly the latest fashion trend that you can adopt. Pick up your favorite crop top from the wardrobe and team it up with your denim jacket. However, keep the color of your jeans in contrast with the top to get the perfect look. Rugged black jeans paired with rough-look blue denim jacket can be an option to consider.
This look can be carried to any event you want. Just pair it up with very light makeup and flat footwear. You're sorted for the event!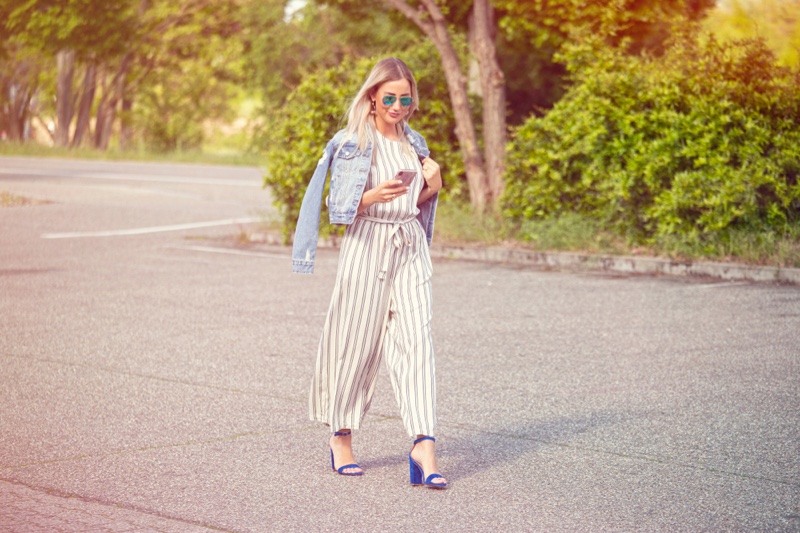 3. Denim Jacket and Jumpsuit
Show off your look in style! A simple jumpsuit would look great with a statement denim jacket and the pumps. Pull off this look for a night event when the desire is to look gorgeous. You can pair it up with a stylish back and a pair of danglers.
Jumpsuits come in various styles. Before you finalize this look, try on a couple of jumpsuit styles to know which one suits your body the best.
4. Denim Jacket and Maxi Dress
A maxi dress with a short denim jacket was most definitely the look of the decade. It's the perfect combination of a daytime date, a casual coffee meetup, and can also be worn to the office. For college students, a full-length dress with a denim jacket is the most go-to look on any normal day.
This easy and breezy look can be best paired with flats. You can additionally adorn yourself with light earrings and a watch.
5. Denim Jacket and Summery Floral Dress
The trend was popularized by Alia Bhatt and is now sported by almost every girl around the globe. A floral dress of mid or short length looks absolutely cute with a denim jacket. To add a little more charm to this look, you can wear ballerinas.
The best way to carry this summery look is by coupling it up with a headband. The bands always make the look a lot cuter.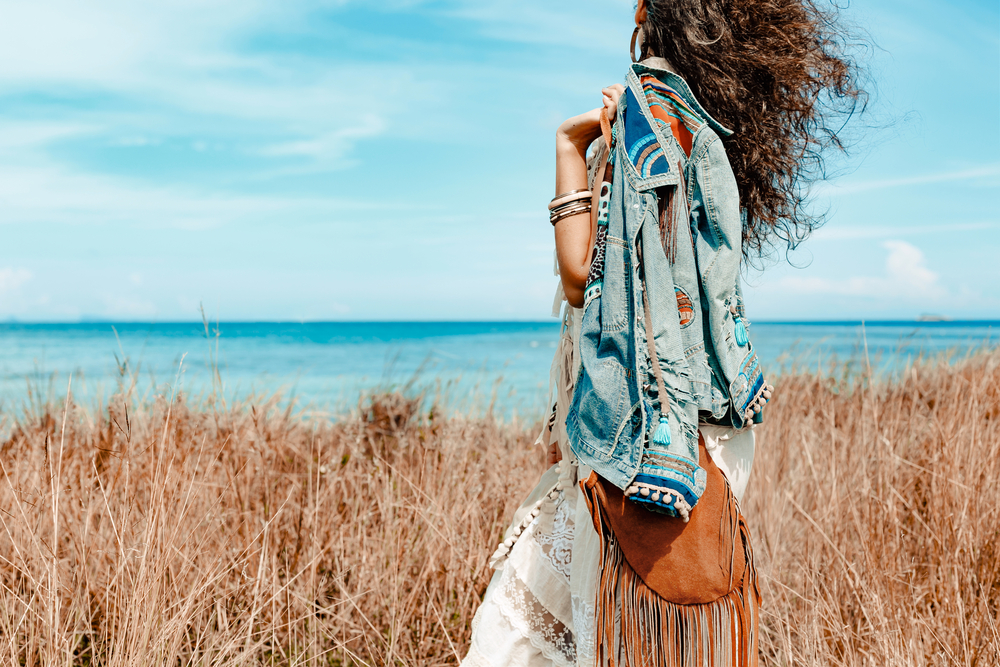 6. Denim Jacket and Bodycon Dress
If looking hot is on your mind, pick the best bodycon dress and pair it up with a contrast denim jacket, you're sorted for the event! This deadly combination adds the right amount of sass and comfort. A shimmery bodycon dress can also go well with a jacket if paired correctly.
To fume up the look a little further, put on the heels and let the cat-eye speak volumes about the confident woman that you are.
7. Denim Jacket and Black Jeans
It is nice to wear a denim jacket with a pair of form-fitting, skinny black jeans. The look will be awesome. Double denim looks superb in black and blue. It's certainly hard to beat combination. Choose a rugged or rough-looking light blue denim jacket when picking up the black jeans.
Casual shoes, ballerinas, flats, heels, almost all kinds of footwear go well with this outfit. Also, add a pair of large danglers to make the look even better.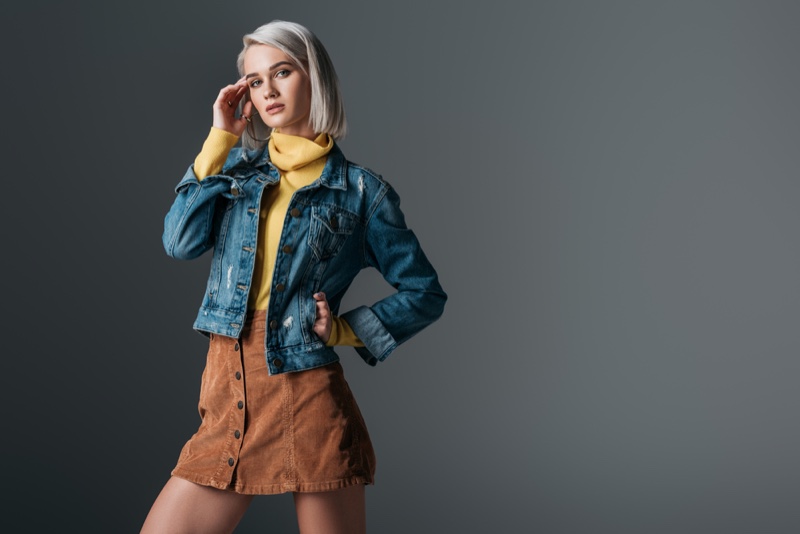 8. Denim Jacket and Mini Skirt
Imagine yourself in a leather mini skirt, black high boots and a denim jacket on the top. This cool combination can make you grab eyeballs wherever you go. Not just the combination, you can go the other way round and pair up your white denim mini skirt with a black leather biker jacket. It's sporty and classy.
Mini skirts usually go well will boots or heels. You can match a pair of footwear and rock the party like a pro!
9. Denim Jacket and Leggings
A denim jacket combined with leggings, a basic t-shirt, and white converse shoes does look fantastic. This simple yet sporty look can be your pick when you're out shopping or to a casual get-together. You can choose this look without a second's doubt to look awesome.
This combo will go best with shoes or funky sandals.
10. Black Overall Dress with Denim Jacket
The denim jacket goes well with a sequined jumpsuit and black overall dress. You can wear a choker or hoops to complement the outfit. A black dress when paired with light blue or greyish-blue denim jacket looks extremely eye-catchy.
A denim jacket fits well into the style. The cool and carefree material is indeed worth wearing. Denim jacket in the fashion world is synonymous with potatoes in the culinary arena. It can be combined with anything that you want without worrying about the style going wrong. You can always pick your favorite denim jacket, mix and match it with whatever you're wearing. It will only add on to the style!