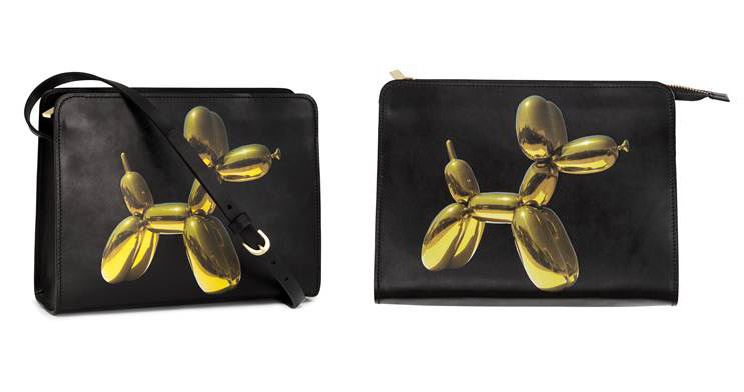 Fashion Loves Art–Swedish retailer H&M continues to expand its number of stores with its newest and largest flagship store in New York opening in July. In celebration of their newest addition, H&M is sponsoring American artist Jeff Koons' newest exhibit: "Jeff Koons: A Retrospective" showing at the The Whitney Museum of American Art. The collaboration will also feature a limited edition Balloon Dog Leather handbag designed by Koons. "The partnership with H&M was really exciting for me and the chance to showcase one of my most popular works to a new generation of people was inspiring. H&M delivers great fashion season after season and it's nice to see my work at their new store," says Koons.
The leather handbag, which features a gold balloon dog similar to his highest selling piece which recently sold for $58.4 million, will be available in limited locations across the U.S. including Los Angeles, Dallas and Chicago as well as their online store, hm.com beginning July 17, 2014.
See H&M's summer 2014 campaign featuring Gisele Bundchen.
Enjoyed this update?