Both of these recent Numéro Tokyo and Vogue Nippon covers disappoint me. First, you have Claudia Schiffer in this stiff and awkward pose that does her beauty no justice. Then you have Lara Stone on the cover of Vogue Nippon which isn't a bad photo bad in itself, but the giant "G" in front of her face is quite distracting. However, I do like the styling. It's very western chic.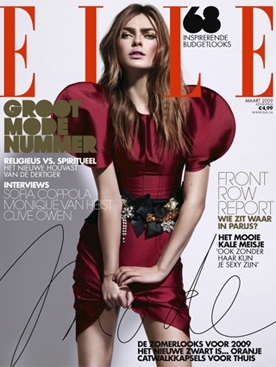 Now, an example of a good cover is this Elle Netherlands (March) one with Sophie Vlaming. The text isn't too busy or cluttered, and if I saw this in the store I would be interested in flipping through the content.
Enjoyed this update?