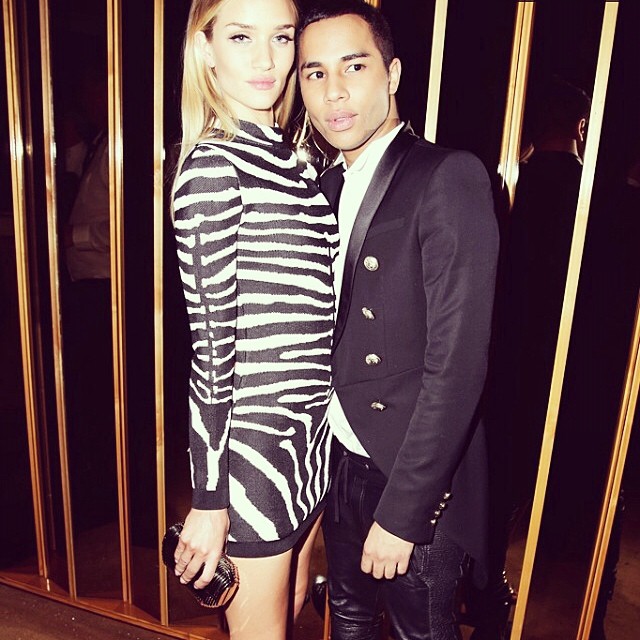 The 28-year old creative director Olivier Rousteing who is credited for reviving French fashion house Balmain says he doesn't mind when Zara and H&M copies his work, reports The Independent. While many designers might find being copied a call for legal action, Rouesting seems to be supportive of it.
"I think it was Coco Chanel who said if you're original, be ready to be copied," said Rousteing. "I love seeing a Zara window with my clothes mixed with Céline and Proenza! I think that's genius. It's even better than what I do! I love the styling, I love the story… I watch the windows always, and it's genius what they do today. I'm really happy that Balmain is copied – when I did my Miami collection and we did the black and white checks, I knew they would be in Zara and H&M. But they did it in a clever way – they mixed a Céline shape with my Balmain print! Well done! I love that."
Rousteing also talks about his friend and muse, Rihanna. Today people are looking at Rihanna like they were looking at Naomi Campbell or Claudia… nobody wants to be a model, everybody wants to be a singer. That's the new dream. I think having Rihanna in the campaign is like having Cindy Crawford of Christy Turlington, but for my generation."
More News on Balmain:
Balmain Fall Eyewear Campaign Images with Cara Delevingne & Jourdan Dunn
Balmain Fall/Winter 2014 | Paris Fashion Week
Enjoyed this update?